Whiz Kids
(2010)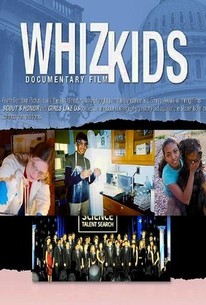 Movie Info
America was once the world's leader in scientific and technological research, but at the dawn of the 21st century, the nation's standing had begun to slip, and as cuts in school funding and a lack of emphasis on science under the George W. Bush administration took their toll, an international study revealed that students in 25 major nations consistently scored higher in math and science than their counterparts in the United States. As American schools strive to reprioritize science and math, the nationwide competition the Science Talent Search seeks to find and nurture the most promising science students in America's high schools. Offering a grand prize of 100,000 dollars, the Science Talent Search is the oldest and most prestigious competition of its kind in the United States, and filmmakers Tina DiFeliciantonio and Tom Shepard follow three gifted teens who have made it into the STS finals in the documentary Whiz Kids. Ana Cisneros attends a school in Long Island, NY, with a primarily Latino and African-American student body, but while people of color have been poorly represented in the STS, ambitious Ana has become one of the top botany students in the state and is determined to prove the stereotypes are wrong. Harmain Khan is the son of a immigrant couple who came to New York City with almost nothing and who were sometimes forced to survive on food stamps and by collecting bottles and cans. Harmain, has shown a striking talent in paleontology, and drives himself to achieve a success that has eluded most of his family. And Kelydra Welcker has won awards for her research into the effects of chemicals dumped into the rivers in her West Virginia community. But while Kelydra is convinced she's doing the right thing for her hometown and the environment, her project threatens to shut down one of the county's largest employer -- the same company that provides her father with a paycheck and pension. Whiz Kids received its premiere as a special preview at the 2009 Cinequest Film Festival.
News & Interviews for Whiz Kids
Critic Reviews for Whiz Kids
Audience Reviews for Whiz Kids
Three young scientists compete for the most prestigious youth science prize in the country in this documentary that follows their journey from regional science fairs to the final competition. Follows in the footsteps of other such documentaries as SPELLBOUND and MAD HOT BALLROOM, and while the stakes here are much higher and the subject much deeper, it ultimately has a "been there, done that" feel to it.
Matthew Lucas
Super Reviewer
Whiz Kids Quotes
There are no approved quotes yet for this movie.