The Wild Angels
(1966)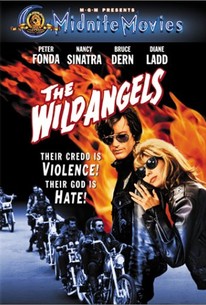 Movie Info
This film follows a group of wild bikers, led by Heavenly Blues (Peter Fonda), as they cause havoc and destruction while paying tribute to a dead gang member, "Loser" Josey Kerns.
Critic Reviews for The Wild Angels
Audience Reviews for The Wild Angels
½
If you've ever thought to yourself, "I wonder what lower depths the lowest common denominator is capable of sinking to?" you could show them this film and it would be all too clear. I don't know how much of this film is reality and how much is Hollywood fantasy, but the film sorts of plods along as one string of violence, drunken partying, raping, and bike riding after another. This is the sort of thing that gives people who ride motorcycles a bad name really. I appreciate certain elements of the film, especially its historical value. It was the first film after many Poe movies that Corman did where he got out on the street and started trying to capture what was "in" at the time. The Hell's Angels were all over the media, and this film was the result. Starring Peter Fonda a few years before production on Easy Rider began, with Nancy Sinatra and Bruce Dern as well. The Wild Angels began the outlaw biker movie craze that lasted for a surprisingly long time, and so its influence permeates the American culture whether they realize it or not. While other hedonistic films can at least be fun while doing so (Corman's next film "The Trip" better captured that), The Wild Angels has an air of nihilistic doom in its ending and its hollow and vile pleasure pursuits. It's a difficult film to grapple with, since it espouses a message of freedom while depicting a group that yields to conformity in their own ranks and committing acts that are the natural end of Fonda's manifesto from the film: "We wanna be free! We wanna be free to do what we wanna do. We wanna be free to ride. We wanna be free to ride our machines without being hassled by The Man! ... And we wanna get loaded. And we wanna have a good time. And that's what we are gonna do. We are gonna have a good time... We are gonna have a party." As Fonda says this in the film, he is standing over his friend's dead body, and shortly after the speech the friend's widow is drugged and raped. Freedom to "do what we wanna do" is costly indeed. Fonda's character better sums up the absurdity of it all at the end. His girlfriend and fellow Angel buddy are riding away to get away from the cops, and as his "old lady" pleads with him to leave he says "There's nowhere to go." When you believe that life has no meaning and your pursuit of pleasure only ends in death and suffering, where is there to go?
Garrett Cash
½
Biker pictures are some of nastiest, grittiest films in Exploitation. The subject is ugly and intense. Some terrific films of the genre such as Easy Rider and Stone are memorable for their portrayal in the lifestyle. Stone being the more accurate of the two. Roger Corman's The Wild Angels is a classic of the genre, and is a fine biker film. With a great cast of actors, this film is very entertaining and is notable for using real Hell's Angels to add more authenticity to the film. The result is an impressive action drama that is brutal and intense. If you enjoy biker themed movies, then you should watch this film, it is a highly entertaining film that keeps you interested from start to finish. Peter Fonda is great here, and he would later star in Easy Rider. Roger Corman crafts something good here, a film that relies on its authenticity to create one of the most memorable biker films that has ever been filmed. With that being said, it does lack at times, but the fact that Corman hired real bikers for the film, makes this really appealing to viewers wanted a film that feels real. The Wild Angels is a worthwhile picture, one that manages to be packed with action and excitement throughout. Like I said, the film has its flaws, but works well enough to make it a film to enjoy. The Wild Angels is a film that will most likely appeal to midnight film fans, but as it is, it's a picture that deserves to be seen by any film buff looking for a well made cult film.
One of my favourite biker movies ever. Fonda gives a great performance. The story is good too. I really liked this movie.
The Wild Angels Quotes
There are no approved quotes yet for this movie.
Discussion Forum
Discuss The Wild Angels on our Movie forum!