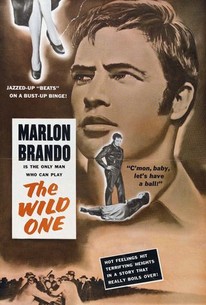 The Wild One
1954, Drama, 1h 19m
25 Reviews
5,000+ Ratings
Where to watch
Rent/buy
Rent/buy
Rent/buy
Rate And Review
Movie Info
Johnny (Marlon Brando) and his motorcycle gang roll into Carbonville for a biker competition and raise enough hell to get kicked out of town. They repair to nearby Wrightsville and continue their reign of terror. The local sheriff (Robert Keith) is helpless to stop them, but when a rival gang arrives, he manages to arrest their leader, Chino (Lee Marvin). Meanwhile, Johnny finds himself attracted to the sheriff's daughter, Kathie (Mary Murphy), and decides to stick around.
Genre: Drama

Original Language: English

Director: Laslo Benedek

Producer: Stanley Kramer

Writer: John Paxton

Release Date (Theaters): original

Release Date (Streaming):

Runtime:

Distributor: Columbia Pictures

Sound Mix: Mono
Audience Reviews for The Wild One
Man, I heard about James Dean imitating Marlon Brando, but first he took Ursula Andress, and then Brando's "Rebel Without a Cause" image. Speaking of rip-offs, I must... resist... the urge... to quote... the song "Wild One"... because that's just what Johnny O'Keefe wanted me to do. Little did he know, his song would end up being more remembered than this film, which should tell you just how popular "Wild One" still is, because Marlon Brando as a biker is an iconic image. Shoot, people see pictures of Brando in this film and think, "What was that from again?", which is bogus, because where O'Keefe was "a" wild one, this is "the" definitive wild one. ...I'm not joking, because Brando was so hardcore that after fourteen years of banning this film, the British Board of Film Censors gave an X rating to said film... from the '50s... in the '60s. Okay, so this isn't quite the edgiest biker film, nor is it even the edgiest film about gang violence that Brando was in, and in the next one, he didn't do anything but sit there and talk with cotton in his mouth. Man, Brando was even awesome in that, so of course he's awesome here, but the film itself, decent though it may be, not so much, for a couple reasons. There are certain natural shortcomings to this story, some of which are not simply superficial, but problematic, thriving on histrionics and questionable character traits which are hard to buy into, what with a thin progression that, like the characters, cannot be firmly fleshed out in a runtime of not even 80 minutes that leads to expository lapses which don't provide much of a sense of background or motivation to the character concepts and actions. Many expository holes are gaping enough to fit in aimless spots, for uneven pacing derives from the film taking time out to touch upon filler that, upon really getting aimless, shakes consistency in the focus of the narrative that doesn't have time to waste on inconsequentiality. A lot of the filler has a certain humor, or at least a lightheartedness that, while enjoyable, betrays the sense of edge, which is already limited by superficialities of the time that are often forgivable as merely undercooked, and would be even more forgivable if they weren't familiar. Just as the uneven sense of edge betrays depths, the conventions betray a certain uniqueness in this influential motorcycle drama, resulting in a certain predictability that is made all the worse when the tropes include contrivances and other subtlety issues. The storytelling features various forms of theatrics, ranging from melodramatics to something of an overblown atmosphere of drama and tension, and consistently reflecting subtlety shortcomings, some of which simply feel lazy, while others feel overblown as a reflection of ambition which stresses the natural shortcomings, and is contradicted by the lazy subtlety mishaps, and by the aforementioned issues in pacing, consistency and predictability. In terms of quantity, there actually aren't too many issues, and when it comes to the severity of the missteps, well, they stand to cut deeper, but the natural shortcomings that derive from a thin story, brief runtime and superficial time go stressed enough by problematic pacing and consistency in subtlety to render the final product underwhelming. With the impact taken out of account, this film isn't even memorable, but while it occupies your time, it holds your attention, because as inconsequential as this drama is in so many ways, it engages, even in concept. Though mishandled, and driven by histrionics and thinness, this film's subject matter remains interesting, with intriguing themes regarding the humanity of troubled youths of the '50s backing a somewhat promising tale about the shenanigans and affairs of a bike gang and its leader, especially when it comes to matters of the heart and danger. There's a certain potential to betray and bring to life, and director László Benedek manages to do both, for although his theatrical approach results in subtlety issues, while lazy approaches stress the other issues, he does find some realized moments in scene structuring that establish a sense of tension. If all else fails, Benedek always delivers on entertainment value, through tight pacing that does not make the film feel break-neck in its covering a brief runtime, yet is lively enough to always be fairly fun, when backed by some smart heights in scripting. John Paxton's and Ben Maddow's script is uneven, and superficial in its exposition and subtlety, but not too contrived, being particularly believable in slang which marks heights in examples of how dialogue is usually not carried away to the point of being cloyingly obvious, and is colorful enough to be memorable, not unlike a couple of memorable set pieces and moments of comic relief, many of both of which have become dated, if they weren't silly to begin with, but remain fun. As for the deeper touches, they suffer from subtlety issues, as well as from superficialities of the time and of a brief runtime that limits exposition, though not as much as I feared, because even though background and motivations are lacking, a number of characters feel distinguished, if not nuanced enough to sell adequately, especially with worthy performances at their backs. A number of performances have also become dated, but most all are charming at the very least, and when it comes to weightier performances, they're commendable for the time, with leading man Marlon Brando particularly standing out by delivering a trademark charisma and rather commanding presence which embodies his tough character iconically, and intensely, until moving humanity is brought into play, thus making the film memorable for its compelling lead, if nothing else. There are touching moments in the storytelling, but on the whole, it's charm and entertainment value that get this film by, matched by a number of natural and consequential shortcomings, though not to where you can't have some fun, through all of the inconsequentiality. Overall, the natural shortcomings of this thin and histrionic story are worsened by a brief runtime that doesn't leave much room for exposition, but does open some doors to aimless spots that beget uneven pacing, while forced and often cheesy comic relief betrays some sense of edge, and conventions betray the depth of this film almost as much as glaring subtlety issues, thus, the final product stands as pretty decidedly underwhelming, although there is enough color in the interesting subject matter, well-paced direction, clever writing, adequate characterization and charismatic cast - headed by the compelling Marlon Brando - to make László Benedek's "The Wild One" entertaining and sometimes intriguing as a motorcycle drama, for all of its issues and superficiality. 2.5/5 - Fair

The characters and the story itself do not have much depth. However, the very same plainness The Wild One possesses and the dashing Marlon Brando make the film quite charming.

A young and angry Marlon Brando lights up the screen as an aimless biker gang leader rebelling against whatever he can find in this cult classic from the 50s. Johnny is the leader of the Black Rebels Motorcycle Club, and he spends most of his time just cruising around and raising hell. Things start to change when he and his crew invade a small, sleepy California town and he meets a cute young lady who might just be what he needs to change his ways. That all changes when he finds out that her dad is the local cop. Not only that, but he's also got to deal with the intolerance of the townspeople, and a rival gang leader named Chino, played by the always cool Lee Marvin. I liked this one. I liked it maybe even more than Rebel Without A Cause. This is certainly not as overrated or heavy handed as that one. It's a nice existential drama, and for a B movie, it's shot and executed far better than it has a right to be. Yeah, it's not the deepest film, but it's not totally devoid of substance, either. The acting is pretty solid. Brando is course is uber cool as Johnny, oozing a quiet strength. Marvin is larger than life, and somewhat cartoony, but hey, it works. The other performers aren't as well known, but they do decently in their respective roles. All in all, this is a pretty good one.

3,5 stars for Brando's hotness.
See Details