Willy Wonka and the Chocolate Factory
(1971)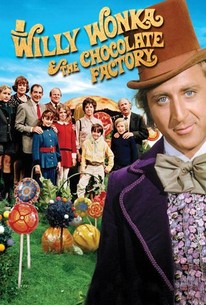 Willy Wonka and the Chocolate Factory Photos
Movie Info
Promoted as a family musical by Paramount Pictures, Willy Wonka and the Chocolate Factory is more of a black comedy, perversely faithful to the spirit of Roald Dahl's original book Charlie and the Chocolate Factory. Enigmatic candy manufacturer Willy Wonka (Gene Wilder) stages a contest by hiding five golden tickets in five of his scrumptious candy bars. Whoever comes up with these tickets will win a free tour of the Wonka factory, as well as a lifetime supply of candy. Four of the five winning children are insufferable brats: the fifth is a likeable young lad named Charlie Bucket (Peter Ostrum), who takes the tour in the company of his equally amiable grandfather (Jack Albertson). In the course of the tour, Willy Wonka punishes the four nastier children in various diabolical methods -- one kid is inflated and covered with blueberry dye, another ends up as a principal ingredient of the chocolate, and so on -- because these kids have violated the ethics of Wonka's factory. In the end, only Charlie and his grandfather are left. Ostensibly set in England, Willy Wonka and the Chocolate Factory was lensed in Germany (as revealed by the film's final overhead shot). ~ Hal Erickson, Rovi
News & Interviews for Willy Wonka and the Chocolate Factory
Critic Reviews for Willy Wonka and the Chocolate Factory
Audience Reviews for Willy Wonka and the Chocolate Factory
½
Gene Wilder is a genius, and he makes us love this magical film that may not be as well polished as it could have been but has a lovely charm of its own and has become a cult childhood favorite for so many people - like a younger sibling of The Wizard of Oz and Mary Poppins.
Carlos Magalhães
Super Reviewer
½
Willy Wonka & the Chocolate Factory is based on the book Charlie and the Chocolate Factory by Roald Dahl. As is the case with the author's children's books, there is a sinister element that is most subversive. It is a recurring theme in his works and this adaptation is no different. The movie was filmed in Munich and this gives the town a puzzling hard-to-place feel before anyone even sets foot in the factory. Five lucky kids get the opportunity to tour Will Wonka's wondrous plant but the experience isn't quite what they were anticipating. The bright colorful production design stirs the imagination with possibilities. There's a chocolate river, giant edible mushrooms, lickable wallpaper, a Wonkamobile that shoots soap. It's all rather enchanting. Only the Fizzy Lifting Drinks sequence is snooze. When the picture was released in 1971 it was a box office disappointment. Despite garnering positive reviews it only earned a mere $4 million in 1971. Over the years, however, the film achieved the status as a cult film and is now widely accepted as an outright classic. It's easy to see why. I love this film. fastfilmreviews.com
Mark Hobin
Super Reviewer
½
Classic fantasy film based on Roald Dahl's book, Willy Wonka and the Chocolate Factory is a standout film with some truly engaging performances, amusing musical numbers and impressive visuals. Gene Wilder is great in the lead role, and the film has the perfect balance of dialogue and musical numbers to make it a truly engaging experience. This is an eccentric fantasy film, one that should be seen by anyone that enjoys a bizarre, story. For fans of the book, they should check this out, and with that being said, I think that Gene Wilder was the perfect choice to play Willy Wonka, and he delivers one of his strongest performances of his career. This is a well crafted picture with some memorable moments that is sure to entertaining you from start to finish. This is a classic film that is constantly entertaining, and boasts a truly unique story. If you want a fantasy film that can capture your imagination, then this is the one to watch. The film has strong performances from everyone involved, and is a fun film to be enjoyed by anyone that loves this genre. Gene Wilder, like I said steals the show and he makes this film a truly memorable picture. Roald Dahl disowned the script that he wrote, but I think that it's still a strong picture, one that makes you want to read the book. The film boasts a strong sense of visuals, which are impressive for its time, and it also adds so much to the film's atmosphere. If you want a standout fantasy picture, then this is a perfect film to watch. The amount of musical numbers is fairly minimal, and it's a good thing because it permits to focus a lot on the story as well. Willy Wonka and the Chocolate Factory is a cinematic classic, and one that is near perfect.
Willy Wonka and the Chocolate Factory Quotes
| | |
| --- | --- |
| Willy Wonka: | Welcome my friends, welcome to my chocolate factory. |
| | |
| --- | --- |
| Mr. Beauregarde: | You're turning violet, Violet! |
| Violet Beauregarde: | What are you talking about? |
| | |
| --- | --- |
| Grandpa Joe: | If Slugworth wants a gobstopper, he can have one! |
| | |
| --- | --- |
| Willy Wonka: | There, see. Completely unharmed. |
| Mrs. Teevee: | You call that unharmed? |
Discussion Forum
Discuss Willy Wonka and the Chocolate Factory on our Movie forum!