The Wizard
(1989)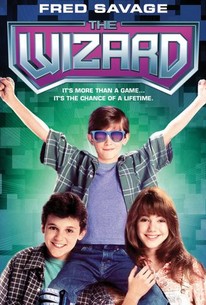 Movie Info
The adventures of two brothers en route to California.
People Who Like this movie also like
Critic Reviews for The Wizard
Audience Reviews for The Wizard
Does that above trailer look like product placement and late 1980's cheese? That is because it is. Do not get me wrong here, I can be a sucker for these types of films if they have a good payoff in the end or some drive toward a decent story. What made me happy watching this film, is that it does exactly that. Fred Savage has always had that little-kid charm to him and the supporting cast around him all serve a purpose toward this story. As his little brother Jimmy has the goal of getting to California, his talents of being a nintendo master surface. As three kids embark on a road trip to California, where the world championship nintendo games are being held, other stories from their past come to fruition. Now, the main story is as cheesy as it sounds, but when the gut punch comes, getting you emotionally invested in a particular character, "The Wizard" becomes slightly surprising. I am not trying to praise this film or call in great in any regard, but it is a serviceable story with more heart than you'd expect. "The Wizard" is a fine time.
It's more than a game... It's the chance of a lifetime. Saw it again! Great movie from my childhood which I still love and enjoy every single time I see it! Very nice roles by everyone who acted on this one. Super Mario Bros.3 one of the best video games ever created hands down! Corey and Jimmy Woods are two brothers who are being separated due to their parents divorcing. Jimmy is a mentally unstable kid that has had problems ever since his sister died at a young age. One day, Corey discovers that Jimmy has a natural talent for playing video games. He is one of the best around, and the two journey to the West Coast to compete in a video game championship, but along the way, they must avoid the adults, who are trying to take Jimmy away.
½
having grown up on this film i was excited to show it to my kids, and despite being about dated games, they loved it as much as i did. as long as one goes into this for good family fun, it works despite the unbelievable storyline.
The Wizard Quotes
| | |
| --- | --- |
| Putnam: | Here...have a sucker. |
| | |
| --- | --- |
| Tough Teen: | What is this kid, some kind of cyborg? |
| | |
| --- | --- |
| Lucas: | I love the power glove.... it's so bad |
| Lucas: | I love the power glove.... it's so bad. |