Woman on the Run
(1950)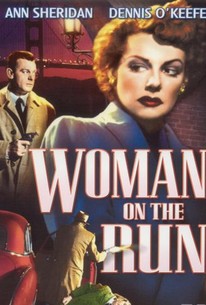 Movie Info
Though it is Ross Elliot who witnesses a gangland rubout in Woman on the Run, the film is told from the point of view of Elliot's wife, played by Anne Sheridan. When Elliot goes into hiding, the police approach Sheridan and ask her aid in locating her husband. She is reluctant at first, since hers is a marriage in name only, but her conscience is aroused when she learns that Elliot is suffering from a potentially fatal heart ailment. Reporter Dennis O'Keefe offers to go along with Anne in her search for Elliot. He's a real friendly reporter. Real, real friendly, and helpful, too. So guess who the "hit man" hired to by the mob to kill Elliot turns out to be?
Critic Reviews for Woman on the Run
Audience Reviews for Woman on the Run
½
Wonderfully tough little known noir with a terrifically tense climax.
great poster, great film, great role for ann sheridan as a tough talking dame with a well hidden heart of gold. this is a really underseen noir and it's on internet archive
Stella Dallas
Super Reviewer
A great Black & White Suspense Film, I came upon it because its on a list of Ross Elliott Films, He doesn't play a big part, but the actors that do are great. Ann Sheridan is a doll. Her Husband is out walking the dog when he sees a Murder, but he goes into hiding because he knows the killer, and the killer is after him. The killer poses as a newspaper man who teams up with Ann to track down her husband, unknowing to Ann. Ann doesn?t like her husband much until she starts searching for him and finds out he truly loves her. Everything a Black & White Movie Should Be, 4 Stars and added to the collection. Should you rent it or Buy it, You better do one or the other you will not be sorry.
Bruce Bruce
Super Reviewer
Woman on the Run Quotes
There are no approved quotes yet for this movie.