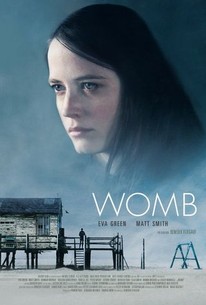 Womb
2010, Sci-fi, 1h 51m
20 Reviews
1,000+ Ratings
Rate And Review
Movie Info
After her lover (Matt Smith) dies prematurely, a woman (Eva Green) makes the controversial decision to bring him back to life by giving birth to his clone.
News & Interviews for Womb
Audience Reviews for Womb
Twisted as hell. But you know, Eva Green... I kind of expected it! Woman gives birth to her deceased boyfriend by cloning him and raises him as her son despite being in love with him. It doesn't end well.

In "Womb," Rebecca(Eva Green) returns to the island where she spent a summer with her grandfather(Istvan Lenart). While reclaiming the family home, stuffed moose and all, she looks up Tommy(Matt Smith), a childhood friend, who she now finds also grown up, along with his friend for the night, Rose(Natalia Tena). Rebecca and Tommy get reacquainted and she accompanies him to an environmental protest prank involving cockroaches. And that's when tragedy strikes. So Rebecca takes the occasion of meeting with his grieving parents(Lesley Manville & Peter Wight) to ask them to sign a form from the Genetic Replication Department. "Womb" is a well-photographed and intriguing movie that is also occasionally creepy as hell. However, none of that sense of unease comes from the idea of cloning which I will leave to those religious thinkers who might object while ironically also preaching rebirth.(I wish we had seen more of this future which mostly seems centered around innovations in genetic engineering. So, sorry, no flying cars.) No, what worries me is Rebecca's behavior. Since the pacing of the movie is so slow, it is hard to tell how quickly time is passing on screen and therefore how much time she spends with Tommy as adults. If it is as brief as I think it is, then there is something definitely off about her wish for a third chance with him.

Felt like it could've been better, it's well acted, beautiful visual, had some great actors but it just felt like it missed something.

womb is a futuristic mythical tale about first love going awry into the realm of obsessional fixation. what is the ultimate form of love a woman could possibly show for the man? have him within you, inside your womb! in the future, technology allows you to clone another human being as long as it's granted by the closest relatives and also it requires some woman who is willing to conceive the fetus of the dead. this film provides us with a revolutionary idea: eternal love through techno-utopia, a challenge toward the finitude of humanity. the film also birngs up some hypothetical political agenda: the human rights of the clone, rendered in a more realistic way than any of those sci-fi movies concerning cloning human life, such as "the island." should they be considered secondary human? (also quite a cliched discussion in the course of posthumanism, but still, no one could bring out an answer.) in this case, womb is a sci-fi romance without the blatant usage of those technical gadgets, on the contrary, the setting is around the primitive beach-area. it's about a woman who meets her first love at the age of nine, over some desolate seashore, but when she returns to rekindle that romance, as she begins to resurrect that romance, the man dies all of a sudden in a car accident. so she makes a fatal decision to continue this love by cloning the man she loves. it appears kind of incomprehensible that how could your infatuation with the first love go this far without being physically consummated? which means, how could you grow so attached to a man without being made love to in the first place? (i try to be subtle here.) so this affectionately obsessional woman raises the man she loves from infant to child, breast-feeding him, nurturing him just as anything a mother could possibly have done until he grows into adult and makes a girlfriend who he bring back home while the woman has to tolerate his son/lover making love to another woman every night. eventually, he has to leave her in the moment he acquires the truth, just as a man gotta get out of the womb to be a man standing on his own ground. but the moment he sheds off his bond with her, this relationship is finally CONSUMMATED. another way to view it, it would be, everything this woman has ever done is to consummate this relationship, like some un-fulfilled wish she manuevers to realize. it's like she cannot get off without making this wish come true. creepily romantic. eva green does push the envelope of her gothic woman persona, and the movie features non-nudity, no sex scene, as the course of desire is rendered through subdued, withheld gazes and smothering, seemingly innocent physical touches. what lies beneath is the most obscene passion which would transcend it all: the possessively devouring love of a woman, accompanied by the all-encompassing sea, a metaphoric representation of omnipresent/omipotent womb. (ps) what i like about this film is how it treats radical material as this, without grotesque uglification of the woman. my minor complaint is, the leading man could have been a bit more attractive to make this love story a bit more convincing. but such set-up does have an odd effect: it makes this romance more like a solipsistic spiral within the woman's head. even the child-actor has more chemistry with eva green than matt smith.
See Details