Woyzeck
(1979)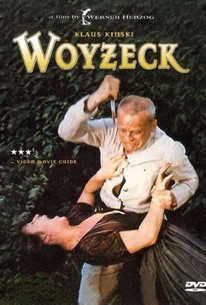 Movie Info
A low-level soldier in the German army is subjected to a series of bizarre scientific experiments, which begin to transform him into an irrational murderer, even threatening to overcome his feelings for his beautiful beloved. Werner Herzog's expressionistic drama is based on the classic play by Georg Buchner.
Critic Reviews for Woyzeck
Audience Reviews for Woyzeck
I liked the parts of Woyzeck (Klaus Kinski's a m a z i n g performance and Werner Herzog's brilliant direction) but for some odd reason I didn't wind up loving the sum of said parts. For me the watch was kind of grueling (namely the story) but at by the time the whole thing was done I'm glad I saw it, but I don't feel the need to ever see Woyzeck ever again. Recommended but not exactly essential outside of Kinski's work.
Michael Gildea
Super Reviewer
Intense & powerful, Kinski rules
½
Ridiculed by his superior officer, restricted to a diet of nothing but peas by his doctor, a confused, nervous and undernourished soldier is finally unhinged by his wife's apparent infidelity. Although not exactly a barrel of laughs, this wasn't as gruelling as I'd expected. Comprised of long, static takes and clocking in at a mercifully short 80 or so minutes, the film was supposedly shot in 18 days and edited in another 4, immediately after Herzog, Kinski and crew wrapped on Nosferatu. Kinski is truly amazing in this, and perhaps because of the not inconsiderable novelty value of watching him play a pitiful wretch rather than a loathsome egomaniac, this is my favourite of his performances I've seen to date. Doubtless the film has much to say to intellectuals about the human condition; unfortunately, I couldn't find an intellectual to enlighten me, so I've had to draw my own conclusions: Go easy on those greens, and never trust a drum major!
Woyzeck Quotes
There are no approved quotes yet for this movie.