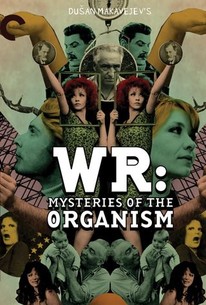 WR: The Mysteries of the Organism
1971, Fantasy, 1h 20m
15 Reviews
250+ Ratings
Rate And Review
WR: The Mysteries of the Organism Photos
Movie Info
A sexual encounter between a Yugoslav beautician (Milena Dravic) and a champion Russian skater (Ivica Vidovic) demonstrates the theories of psychoanalyst Wilhelm Reich.
Audience Reviews for WR: The Mysteries of the Organism
<i>erotoscope courtesy of united states of erotica</i> Haha! Sex and politics have always been the hardest topics for a stupidly conservative society to deal with. Now mix them! Censorship and banning is the result around the world. The famously infamous Serbian provocateur Dusan Makavejev orchestrates a sexually charged collage of Communist ideals and national history, playing with the impulsive nature of mankind and geniusly comparing Fascism and Stalinist oppression with sexual repression and the prohibition of free love and Socialism. I want to laugh very hard and I would not know exactly how to put the reason into words, but one of the reasons is definitely the degradation of the "American dream". :D 99/100

This is an intricate, complex, interesting film. I'm not sure what all the Russian political stuff is about, but I found it engaging anyway. It's a pretty strange movie, but interesting if you like weird interesting movies of the 70s.

Dusan Makavejev's "W.R.: Mysteries of the Organism" simply defies classification. Perhaps it's more of a "think piece" than anything belonging to a standard film genre. "W.R." refers to the controversial, possibly demented psychologist Wilhelm Reich. And most of the film's 84 minutes are devoted to promoting his ideas, in ways both subtle and explicit. Sometimes, very explicit. The first 25 minutes are almost a straightforward documentary about Reich's life and work. For the movie's purposes, the key details are his Marxist politics and a belief in sexual ecstasy as a central regulator of one's health and stability. Part of the latter theory is his dubious focus on a ubiquitous, blue-tinted energy which he named "orgone." He even suggested that replenishing the body's orgone levels would cure cancer. He invented two notorious devices for channeling this precious force: the cloudbuster (a series of sky-aimed pipes which allegedly could produce rainfall) and the orgone accumulator (a person-sized booth lined with layers of wood and metal). Eventually, Reich's ideas became so contested that the U.S. government actually destroyed many of his books and contraptions. He died in 1957. The manifesto of "W.R." arrives early: "Comrade lovers, for your health's sake, f*ck freely." The remaining scenes cut between multiple people who generally follow this principle. The Fugs' Tuli Kupferberg walks the streets dressed like a soldier, bellowing mock-military rhetoric while waving a toy gun. Professional plaster-caster Nancy Godfrey takes a mold of a young man's erection (yes, the film shows hard penises). A glittery drag queen eats ice cream with his lover and talks about his first fling. An artist discusses painting portraits of people masturbating. Women writhe in feigned sexual heat as cathartic therapy. There's also some simulated stock footage of Joseph Stalin. But the largest chunk of time is devoted to two female radicals who live together and stridently preach the ways of Marxist free love. One of them is frequently nude, and even has what appears to be genuine intercourse onscreen. The girls attend an ice-skating performance with an amusing Communist slant and end up luring a handsome Russian skater back to their lair. This subplot has a bizarre, unexpected conclusion which arguably does not fit the movie's themes so well, but rest assured that the skater winds up crooning a quite lovely folk song. The film's shambling structure is somewhat charming but mostly irksome and, to make matters worse, I couldn't parse at least a dozen lines due to white subtitles being laid over light-colored imagery. Meanwhile, the opening credits waste a perfectly good egg.

Although it is a VERY strange film, it is a must see because of two things: Sex and Politics. It cannot get better than this. The film might seem a bit to sophisticated and philosophical at times, but there are still other things to enjoy!!! It is not a typical conventional narrative film, but a collage which brings two separate subjects into one concept that might makes sense in the end. You might not understand what in the world im saying, but just enjoy yourself watching this "documentary" and you'll understand. Dont forget!!! There is Sex and Politics!!! It definitely wont be a disappointment!
See Details