Wrong Side of Town
(2010)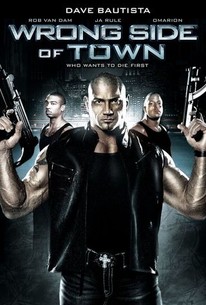 AUDIENCE SCORE
Critic Consensus: No consensus yet.
Wrong Side of Town Photos
Movie Info
When a former NAVY Seal incurs the wrath of a dangerous gangster, he must mend fences with an old friend in order to escape death and protect his family. If you mess with Bobby (Rob Van Dam)'s family, you're going to pay the price. The corrupt nightclub owner who brutalized his wife found that out the hard way when Bobby sent the scumbag to an early grave. Now, the club owner's brother is gunning for revenge. He's put out a contract on Bobby, and kidnapped his daughter. If Bobby ever wants to see his little girl again, he'll need the help of his old ally Ronnie (David Bautista). Though Bobby and Ronnie haven't been on the best of terms lately, Ronnie agrees to put their differences aside to help save his old friend's family. It won't be easy, but then again if it were, it wouldn't be any fun either. ~ Jason Buchanan, Rovi
Critic Reviews for Wrong Side of Town
All Critics (1) | Fresh (0) | Rotten (1) | DVD (2)
DeFalco returns with Wrong Side of Town, a burly, brainless exercise in tough guy cinema, with a slew of D-list celebrities and professional wrestling buddies to help fill out his limited vision for weightlifter heroism.
Audience Reviews for Wrong Side of Town
Ya i know yall want to take turns kicking me but you know what? I call a spade a spade and i wasnt bored once through this film. Ok if you are a wrestling fan as i am RVD is RVD he really never gets excited about anything even when he won both the world titles for the WWE and the Tna. And Dave Bautista on the other hand i sense acting skills if they were drawn out persay by and acting coach. Besides these guys are cooler then the other side of my pillow. When i first started to see the teaser trailers last year for Stallone's Expendables the hair used to rise on my arms. Then when it came to opening weekend bang we were there and let me tell you the dissapointment of 2010. No script and RVD is 10 times the actor Dolph Lundgren will ever be. Every single fan of the expendables i have talked to all say who needs good acting and script they blow stuff up! Ok but the same people bulk at this? Hmmmmm? Anyhow enjoy your slagging i take on all commers!
Rob Van Dam's character was mediocre and his delivery of dialogue cheesy. And to Ja Rule...all I can say is ...WTF!! Really Horrible but you might find it entertaining if you like the macho meat head types, cheesy dialog, fake boobs and if you are a fan of Wrestling (RVD, Batista and Nelson Frazier Jr aka Viscera are in this movie!). Plot: RVD gets invited to a club and whilst there, the brother of big drug dealer tries to rape his wife.RVD gets into fight with rapist who falls on his own knife and dies. Big Brother (turns out to be the dad instead) decides to take revenge by putting hit of $100,000 on RVD and then kidnapping his daughter. RVD (turns out he is an EX-NAVY SEAL), dresses up in full fight gear and takes down the bad guys with the help of his buddy, Batista)
Wrong Side of Town Quotes