Wrong Turn 4
(2011)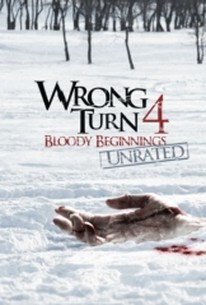 Movie Info
College friends take shelter in an abandoned hospital after a giant snow-storm forces them to rethink their vacation plans for winter break. Now they have to fight for their lives as psychos who used to live there try to kill them all. ~ Perry Seibert, Rovi
Critic Reviews for Wrong Turn 4
Audience Reviews for Wrong Turn 4
Disappointing prequel that attempts to explain how the cannibals started out killing and that but doesn't and is just another generic horror. To be fair it starts off promisingly with some shagging but then you realise the characters are annoying. Basically some students(obviously!) have to take shelter in an abandoned hospital due to a snow storm but the deformed psycho's that used to live there and escaped there cells are out to get them. For the type of film, and series, Wrong Turn is, you can't be to harsh but I think the mostly annoying cahracters, dodgy script and familiar(despite one or two cool ones) kills and the sense of dark fun the previous film had that isn't in this one are what make Wrong Turn 4 a bit dodgy.
'Wrong Turn 4: Bloody Beginnings' is the atrociously bad prequel to a once great horror movie series. You think 'Wrong Turn 3' is bad? At least it didnt feature a cannibal style fondue. I prey the council puts a sign up on that highway soon so we don't ever hear about another wrong turn ever again!
Lindsey Dunn
Super Reviewer
½
A hilarious follow up. As good as the others, but good isn't a descriptive enough word.
Sophie Burgess
Super Reviewer
Wrong Turn 4 Quotes
There are no approved quotes yet for this movie.