WYRMWOOD: Road Of The Dead
(2015)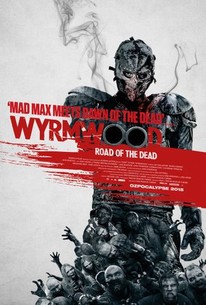 WYRMWOOD: Road Of The Dead Videos
WYRMWOOD: Road Of The Dead Photos
Movie Info
Zombies invade the Australian Outback in this brain-splattered, Mad Max-meets-the-undead thrill ride. When an apocalyptic event turns everyone around him-including his wife and daughter-into marauding zombies, everyman mechanic Barry arms himself to the teeth, soups up his car, and hits the road in order to rescue his sister from a deranged, disco-dancing mad doctor. Bursting with high-octane car chases, crazy-cool homemade weaponry, and enough blood-and-guts gore to satisfy hardcore horror fans, WYRMWOOD: ROAD OF THE DEAD takes the zombie flick to bone-crunchingly berserk new heights.(C) IFC Midnight
News & Interviews for WYRMWOOD: Road Of The Dead
Critic Reviews for WYRMWOOD: Road Of The Dead
Audience Reviews for WYRMWOOD: Road Of The Dead
A self-aware B rate horror film. This movie hits all the guilty pleasures of a bad 80s horror flick with aplomb. Senseless plot? Check. Cringe worthy acting? Check. Bizarre senseless violence? Absolutely. It is hard making a painfully bad movie that slips into a cult favorite spectacle of baddie goodness. Wyrmwood does a good job of capturing that magic. Outside of mastering an arc-type rather well, Wyrmwood provides a few fun novel twists on the zombie apocalypse scenario. The usual zombie carnage and violence is present, but with a couple of interesting new twists that keep the film fresh. There really is no point to it or grand conclusion. It is really just a good old fashioned ride into the absurd. Interestingly, a lot of good films in this vein are coming out of Australia and New Zealand recently. I am not sure why, but it is a welcome trend as the American mainstream has largely lost the art.
Shane Sackman
Super Reviewer
Alright. Starts off pretty well, but honestly this film just gets confusing as hell. A lot of things aren't explained particularly well, which really hurts this film. Plus the acting is honestly pretty bad. The action is decent however, so there's that.
Stephen Skudlarek
Super Reviewer
While I think the film's description of being like Mad Max meets Dawn of The Dead is somewhat accurate, whether it was from a reviewer or done for promotional purposes, it's also not entirely accurate per se. While the DIY costumes the characters wear certainly bring up memories of Mad Max, I think it borrows that and, perhaps, the eccentric characters that populate this world, but that's about it. I think that, at first glance, that's what the film reminds you of, but I thought it was mostly the costuming itself and not even the structure and pacing of the story. For example, Mad Max 2 had very minimal dialogue, whereas this film doesn't. I don't want to say it's as talky as, say, a David Mamet screenplay, but there's far more dialogue than there would be in Mad Max. Honestly, Mad Max is really used as something to grab people's attention so they'll give a shot to a film that they wouldn't have bothered to say anyway. With that said, I did like this film quite a bit. It's not that it revitalizes a dead genre, but it does give a bit of new life and twist to the zombie genre, while also paying tribute to the classic cult films like Dawn of the Dead, Evil Dead, Mad Max, among others. It's a film that's definitely a labor of love and it's also one that very stylishly made in spite of its relative minuscule budget. The movie adds some twists in that the zombie's blood, during the day, can be used as an alternate to gasoline and how Brooke, after the experiments she's gone through, can now control the zombie horde with her mind. I think this is a film that embraces the B-movie style and really just runs with it. It doesn't take itself too seriously, but it never becomes a mockery of itself. There's a lot of gore, to be expected, and it looks quite good actually. Granted, a lot of the blood and gore itself is done using CG, but I think it still looks good. Perhaps the main problem I have with the film is that the narrative itself is a little bland and, pardon the pun, lifeless. It goes from point A to B to C in a pretty formulaic fashion. The film is full of eccentric characters, but none of them had any depth. Not that you would expect them to, though Brooke is probably the coolest character in the entire film and it would be fun to see a film based just around her and her powers. The acting itself is fine, not amazing, though the guy who played Benny was actually pretty bad. The rest of the cast was fine and they played their roles well. While this is a film that pays tribute to some classic films, it also manages to stand on its own by adding some new wrinkles to a worn-out subgenre of horror. It's not what I would call a great film, it's only good, but it's definitely a very enthusiastic type of good. It's definitely worth watching, genre fans will definitely eat this up and I more than welcome a sequel. Good stuff here, this is an easy recommendation.
Jesse Ortega
Super Reviewer
WYRMWOOD: Road Of The Dead Quotes
There are no approved quotes yet for this movie.
Discussion Forum
Discuss WYRMWOOD: Road Of The Dead on our Movie forum!