Yor, the Hunter from the Future
(1982)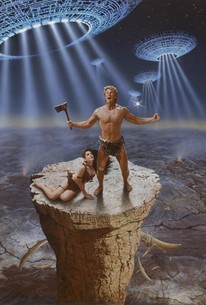 Yor, the Hunter from the Future Photos
Movie Info
This Italian-Turkish co-production helmed by genre veteran Antonio Margheriti (using the pseudonym "Anthony M. Dawson") was cobbled together from a four-part science-fiction miniseries shown on Italian television. In prehistoric times, the muscular Yor (Reb Brown in a loincloth) saves his cave-babe (Corinne Clery) from a dinosaur just before they get zapped into the future to battle bad guys in the familiar desolate wasteland. Genre stalwart John Steiner (Caligole) and the ubiquitous Luciano Pigozzi co-star with Carol Andre. ~ Robert Firsching, Rovi
Critic Reviews for Yor, the Hunter from the Future
Audience Reviews for Yor, the Hunter from the Future
½
One of the worst movies imaginable. I watched this in the theater as a kid. Why you ask? I was fantasy crazy and this was one of the best examples out there. Not to sound like an old fogey (though I am) but I don't think the kids know how lucky they are in terms of genre films and TV being made. I also in retrospect feel very sorry for my parents whom I dragged to things like this. Sure it is lame acting, lame dialogue(though that could just be the transition from Itallian) , lame action, lame special effects, heckit doesn't even rate fun for camp value (that's lame lameness people) but it is a slice of '80's B- movie history. One day in the far future I picture a bespectacled professor teaching a University course using this movie pointing out to the variously stunned and bored kids what used to pass for entertainment in the elder days. Oh the Humanities!
Sean Scobie
Super Reviewer
Yor, the Hunter from the Future Quotes
There are no approved quotes yet for this movie.