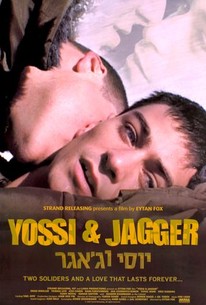 Yossi & Jagger
2002, Drama, 1h 7m
44 Reviews
2,500+ Ratings
Rate And Review
Movie Info
Jagger (Yehuda Levi) is the outgoing unit leader of an Israeli Defense Force squad stationed on the Lebanese border; Yossi (Ohad Knoller) is his commanding officer. A contemplative soldier, Yossi is starting to buckle under the burden of his secret homosexuality. Jagger and Yossi explore their growing feelings for one another under the suspicious eyes of their fellow soldiers. Their colonel (Sharon Raginiano) brings news of an impending attack, which tests the bond between the two lovers.
Audience Reviews for Yossi & Jagger
An inept romance that mistakes amateurish for naturalistic, looking like a cheap movie made for TV and with actors who are below the level of mediocre - and it works better when focusing on the daily life of the soldiers than on a corny gay love story that goes nowhere.

Even though it's short, but Yossi and Jagger has a fresh, fast pace and good romance between the two leads coming from Israel. 7.5/10

This Israeli film has got all the love and charms you need to feel good when you are down. Set in the Isreali Defense Force, you've got two soldiers that are closeted homosexuals that cannot express their love to each other, on top of this, the hardship of war made their situation even tougher. It's a cute independent drama that features adequate acting and a bitter sweet ending.
See Details