Young People Fucking (Y.P.F.)
(2007)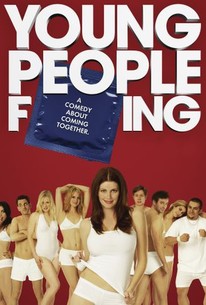 Young People Fucking (Y.P.F.) Photos
Movie Info
Director Martin Gero turns his knowing lens on five different archetypal relationships in a caustic romantic comedy highlighting the amusing similarities and bizarre differences in human relationships. Sexually frustrated blonde Abby (Kristin Booth) is stuck in a domestic rut with her hyper sensitive boyfriend Andrew (Josh Dean); will the pair be able to smooth things out or could it be that their relationship was actually doomed from the very beginning? Yet while folks like Abby and Andrew are currently locked in to relationships, others like longtime friends Matt (Aaron Abrams) and Kristen (Carly Pope) just got out of them. Perhaps a quick round of casual sex between old friends is just the thing to help both friends move beyond their pains of their past. Meanwhile, recently broken-up couple Mia (Sonja Bennett) and Eric (ohn Cooke) are attempting to bury the past by going out on one post-mortem date, and British ladies man is out on his very first date with the pretty, and much younger, Jamie (Diora Baird). But not all relationships are as simple as one man and one woman, because energetic Gord (Ennis Esme), his ill-humored roommate Dave (Peter Oldring), and Gord's beautiful girlfriend Inez (Natalie Lisinska) somehow find their relationship growing increasingly unconventional.
Critic Reviews for Young People Fucking (Y.P.F.)
Audience Reviews for Young People Fucking (Y.P.F.)
½


Isn't as serious as it should have been.
Emile Tremblay
Super Reviewer
½
A clever ensemble piece about the circumstances under which people aged 20-32 find themselves... well... having sex. A movie about sex that depicts what's necessary without being tasteless, this is an examination of various preconceptions, misconceptions and warped perceptions about sex, and asks the questions so many people ask themselves and each other. A one-of-a-kind film that really makes other movies' depictions of sex seem very shallow, this one doesn't have the best acting, or writing, but it's interestingly structured and makes it point very well.
Daniel Perry
Super Reviewer
½
7/10 A cleverly written Canadian comedy that is a lot more tame than the title suggests and you may expect. It's likeable cast is a major contributing factor to the films success. Y.P.F. is a frank and entertaining little gem that you should definately check out.
Young People Fucking (Y.P.F.) Quotes
| | |
| --- | --- |
| Jamie: | I'm twenty-three. |
| Ken: | Bloody hell. I mean, I'm thirty-one-years-old. You know what that means? It means I can't be running around fucking all these girls. I mean, half the time I don't even speak to them ever again. That's rude is what it is. It's immature. It's embarrassing, it's fucking embarrassing. There comes a point when you want all of this to be about more than just getting off. Do you know what I mean? So I'm gonna go. I'm gonna go, and, uh, I'm gonna ask you if I can call you later in the week. I'll tell you what I'm gonna do for you. I'm gonna walk you up to your door. |
| | |
| --- | --- |
| Gord: | Hey Dave. David. you awake? You are, aren't you? It nicey-nice. |
Discussion Forum
Discuss Young People Fucking (Y.P.F.) on our Movie forum!