Fight, Zatoichi, Fight
(1964)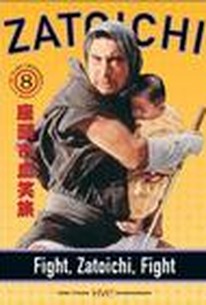 AUDIENCE SCORE
Critic Consensus: No consensus yet.
Movie Info
The blind swordsman Zatoichi (Shintaro Katsu) escapes from a gang of assassins with help from a group of blind pilgrims, but a woman is killed by mistake during their hunt for him. He finds her baby alive and vows to bring the child to its father in a story that plays like a medieval Japanese version of John Ford's Three Godfathers. The warrior dotes on the child even as he fends off attackers and helps to reform a woman criminal. When he gets the baby to its father, however, the man rejects the child and allies himself with the assassins trying to kill the hero. ~ Bruce Eder, Rovi
Critic Reviews for Fight, Zatoichi, Fight
Audience Reviews for Fight, Zatoichi, Fight
There is little action in this film, still some, but Fight, Zatoichi Fight is more a film showcasing Zatoichi's soft side and love of innocent children and enjoyment of peace. The film starts with Zatoichi graciously giving up his escort to a woman with a newborn baby so that she can rest on her journey home. The men in pursuit of Zatoichi stab the woman, thinking it's Zatoichi inside, and leave the baby with no mother. Thus Zatoichi makes it his mission to get the child back to his father, all the while fending off attacks from the group pursuing him. One hilarious scene involves him striking down several men while in the process of changing the baby's diaper. The film really focuses on Zatoichi and his loving and caring attitude more than the action but it makes for a deeper look at Zatoichi and his kindhearted ways.
Chris Browning
Super Reviewer
½
A bizarre title for this as it contains the least amount of fighting so far. This film is all about emotion and character development. There are still plenty of sword fights, but this mostly has Zatoichi talking his way out of fights. Here, he takes care of an infant until he can return it to it's father. Though there are plenty of those bonding moments, this isn't incredibly cheesy, nor does it soften Zatoichi. He isn't some gruff action hero that "doesn't want a kid around", he enjoys the company and becomes very attached. It becomes a real tearjerker without becoming some manipulative drivel. As this is the 8th film in the series, I was thankful for the change in pace and the wonderful characters. Slower, but understandably so.
Luke Baldock
Super Reviewer
Good characters and story.
Anthony Valletta
Super Reviewer
Fight, Zatoichi, Fight Quotes
There are no approved quotes yet for this movie.