Zorba the Greek
(1964)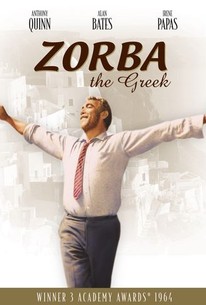 Movie Info
If ever there was a role that Anthony Quinn was born to play, it was the lusty, life-affirming title character in Zorba the Greek. The scene is the isle of Crete, where English writer Alan Bates arrives in the hopes of realigning his own values and outlook on life. He is "adopted" by the flamboyant Zorba, who determines to educate Bates in the ways of the world-or, to be more precise, Zorba's world. Along the way, Bates is introduced to widow Irene Papas, the unrequited love object of everyone on the island, who comes to a tragic end when she is accused of adultery. The writer is also a spectator to the equally benighted romance between Zorba and venerable courtesan Lila Kedrova. Other disasters follow, but Zorba is able to convince Bates that failure is an inescapable part of life, and that only by constantly tasting defeat can one truly enjoy life's victories. Based on the novel by Nikos Kazantzakis, Zorba the Greek earned Oscars for actress Lila Kedrova, cinematographer Walter Lassally and art director Vassilis Fotopoulos. ~ Hal Erickson, Rovi
News & Interviews for Zorba the Greek
Critic Reviews for Zorba the Greek
Audience Reviews for Zorba the Greek
½
Zorba the Greek (1976) came out during a time when Hollywood was reaching out in all kinds of directions to release films to butts in movie theater seats. This US-Greek production stars Alan Bates as Basil, a half-Greek, half-English man who is en route to Crete to take over his now-deceased father's mine there. In transit he meets Alexis Zorba (Anthony Quinn), who is a lively good-humored man who volunteers to do work for Basil. Zorba dances in the face of adversity, and he's not afraid to lie and bend rules in order to maintain a sense of playfulness, especially in this movie's world, which just seems to be such a bummer. Troubling, however, is the way in which the women in the film get so easily cast aside or how they're viewed as means to men's lusty ends. Basil's and Zorba's world is definitely a man's world, and women have no agency here. I'm thinking here of the Widow and Madame Hortense. You'll see.
Billie Pritchett
Super Reviewer
Zorba: Damn it boss, I like you too much not to say it. You've got everthing except one thing: madness! A man needs a little madness, or else... Basil: Or else? Zorba: ...he never dares cut the rope and be free. A solid film centering on two men. One playing it straight, the other a larger than life character who gives this film the right kind of energy every time he is on screen. Well made, with a great soundtrack. An aimless Englishman, Basil, played by Alan Bates, finds he has a small inheritance on the Greek island of Crete. His joyless existence is disturbed when he meets Zorba, played by Anthony Quinn, a middle aged Greek with a real lust for life. As he discovers the earthy pleasures of Greece, the Englishman finds his view on life changing. Other adventures occur, including the pursuit of love for both men and the construction of crazy contraptions. Basically, Anthony Quinn owns this film. Every time he is around, I love everything that is going on. His character provides laughs, a sense of adventure, and other endearing qualities that kept me entertained. Plus he's a damn good dancer. The other actors do a solid job in the film as well. Taking place in Crete, and actually having been filmed there, this is a very good looking film as well. It certainly captures the surroundings quite well, while giving a specific portrayal of this Greek society. The other great element of this film was its score. I've heard its key tune many times before, but here it is perfectly mixed into the story. As this film mixes some more light-hearted moments with much darker dramatic material, it was great to have a Greek-themed musical vibe running throughout, which helped keep me engaged. While the film does run a bit long, it still had plenty of well accomplished elements to make it worthwhile. Basil: I don't want any trouble. Zorba: Life is trouble. Only death is not. To be alive is to undo your belt and *look* for trouble.
Aaron Neuwirth
Super Reviewer
A much darker film than I expected it to be. Anthony Quinn's energetic and charismatic Zorba seems almost out of place amidst a cast of cowardly, vengeful, parasitic villagers who always seem to linger ominously in the background. Ultimately, Zorba the Greek is an uplifting film, but it will route you through a few valleys before it reaches the mountaintop.
Randy Tippy
Super Reviewer
Zorba the Greek Quotes
| | |
| --- | --- |
| Alexis Zorba: | You think too much, that is your trouble. Clever people and grocers, they weigh everything. |
| | |
| --- | --- |
| Basil: | An overhead cable? You're mad. |
| Alexis Zorba: | Why? |
| Basil: | That forest doesn't belong to us. |
| Alexis Zorba: | Well, it doesn't, and then it does. |
| Basil: | What does that mean? |
| Alexis Zorba: | It belong to the monastery. The monastery belongs to God, and God belongs to everybody. Do you agree? |
| | |
| --- | --- |
| Alexis Zorba: | God has a very big heart but there is one sin he will not forgive [slaps table]. |
| Alexis Zorba: | God has a very big heart but there is one sin he will not forgive. [slaps table] |
| Alexis Zorba: | If a woman calls a man to her bed and he will not go. |