Day 3: 3:00 PM-4:00 PM
EPISODE: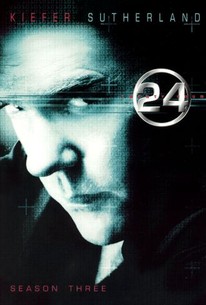 Episode Info
With the presidential debate looming and a terrorist threat in play, Palmer (Dennis Haysbert) learns that Anne's (Wendy Crewson) disgraced ex-husband has changed his earlier testimony in an SEC fraud case, and is now accusing her of perjury. Wayne (D.B. Woodside) urges Palmer to distance himself from her, and suggests that they pay the ex-husband off to keep quiet. Luis Annicon (Carlos Gomez) is called to the prison to meet with Ramon (Joaquim de Almeida), who has a surprise for him. Jack (Kiefer Sutherland) is on his way to Kyle Singer's (Riley Smith) apartment, and he's fiending, but he's joined by a HAZMAT team before he has a chance to shoot up. Gael (Jesse Borrego), working inside CTU, tells Hector (Vincent Laresca) that they have a man on Kyle, so they don't have to worry about CTU reaching him. After an argument with his parents, Kyle tries to leave his house, but his father (Ted Marcoux) grabs his duffle bag and finds the "drugs" inside. Kyle struggles to get the bag back and it rips open. He runs off. When the CTU team arrives, Kyle's mother (Lucinda Jenney) panics and flushes the white powder down the toilet, setting off a desperate effort to close off the local sewer system. But Jack soon learns that there's no trace of the virus in the powder, and surmises that because the virus has a 14-hour incubation period, Kyle might have been infected, and they have about three more hours to find him before he'll become contagious.
Day 3: 3:00 PM-4:00 PM Photos
Discussion Forum
Discuss 24 on our TV talk forum!