Day 3: 4:00 PM-5:00 PM
EPISODE: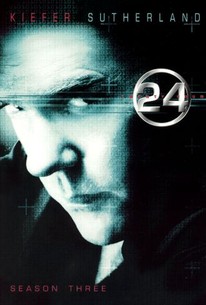 Episode Info
Michelle (Reiko Aylesworth) gets word that Tony (Carlos Bernard) has been shot and critically wounded while trying to apprehend Kyle (Riley Smith). As Tony goes into surgery, she reluctantly decides to stay at CTU and run the critical anti-terrorism operation. Realizing he's being pursued, Kyle gets in touch with his girlfriend, Linda (Agnes Bruckner), and convinces her to come and pick him up at the mall. Then he tells her that he could maybe be infected with some kind of deadly virus. Terrified, she tells him to take her car and go, but before she can get away, a group of men grab the young couple and take them to an airtight chamber, where they'll presumably be kept until the virus is contagious. David (Dennis Haysbert) is ready to pay off Anne's (Wendy Crewson) ex, but Anne appeals to his conscience, and convinces him to call it off, much to Wayne's (D.B. Woodside) chagrin. Jack (Kiefer Sutherland) can't convince David to release Ramon (Joaquim de Almeida), so he proposes another plan: he'll go "rogue," break Ramon out of prison, and deliver him to Hector (Vincent Laresca). This way, the biological terrorism threat will be thwarted, without the president appearing to have given in to the Salazars' demands. Jack proceeds to the prison, but is furious when Kim (Elisha Cuthbert) tells him that Chase (James Badge Dale) has disobeyed his orders and gone to the prison himself to interrogate Ramon.
Day 3: 4:00 PM-5:00 PM Photos
Discussion Forum
Discuss 24 on our TV talk forum!