Day 3: 7:00 PM-8:00 PM
EPISODE: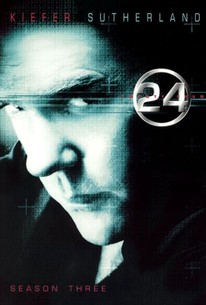 Episode Info
Michelle (Reiko Aylesworth) and Adam (Zachary Quinto) find Kim (Elisha Cuthbert) bound and gagged, and Gael (Jesse Borrego) is quickly captured. Michelle convinces Ryan (Paul Schulze) to let her go to the hospital to see Tony (Carlos Bernard), while he handles the interrogation. Anne (Wendy Crewson) gets a call from her ex, Ted (Conor O'Farrell), who tells her that if she comes to meet him at his hotel, he'll turn over documents proving her innocence. While Ramon (Joaquim de Almeida) parties on the plane, he contemplates killing Jack (Kiefer Sutherland), who is tied up in the cargo hold. Jack manages to get loose, though. He gets a gun, and holds Ramon at gunpoint until the plane lands in Mexico, where Hector (Vincent Laresca) waits with a small army. Chase (James Badge Dale) disobeys orders again. He finds out where Ramon is headed, and flies there himself, telling Kim that he'll have to "go dark" to complete his mission. When Tony wakes up and finds out about Gael, he checks himself out of the hospital and races back to CTU, where he fills in the rest of the team on Jack's secret plan.
Day 3: 7:00 PM-8:00 PM Photos
Discussion Forum
Discuss 24 on our TV talk forum!