Day 3: 9:00 PM-10:00 PM
EPISODE: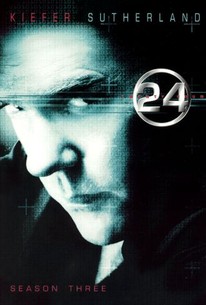 Episode Info
Not long after Palmer (Dennis Haysbert) finishes dealing with the Anne fiasco, one of his major contributors, Alan Milliken (Albert Hall) calls and asks for a meeting. Alan tells the president that Wayne (D.B. Woodside) had an affair with his wife, Julia (Gina Torres), while he was recovering from a stroke. Alan orders Palmer to fire Wayne and warns him that there will be serious consequences if he doesn't. At CTU, Kim (Elisha Cuthbert) notices a couple of apparent oversights on Tony's (Carlos Bernard) part, and suggests to Michelle (Reiko Aylesworth) that he has not recovered sufficiently from his gunshot wound, and should be relieved of command. Down in Mexico, Chase (James Badge Dale) is being tortured, and Jack (Kiefer Sutherland) enlists Claudia's (Vanessa Ferlito) help, promising to get her, her little brother, and her father out if she'll get him a cell phone (his transponder was broken during his brief struggle with Chase) and help Chase escape. Jack gets an unpleasant surprise when Amador (Greg Ellis) shows up and announces that there's another buyer competing for the virus, and the Salazars will have to bid for it. The situation grows more complicated when Jack learns that the other buyer has sent an all-too-familiar representative to their makeshift auction.
Day 3: 9:00 PM-10:00 PM Photos
Discussion Forum
Discuss 24 on our TV talk forum!