Day 4: 9:00 AM-10:00 AM
EPISODE: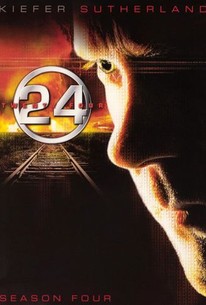 Episode Info
Jack (Kiefer Sutherland) calls into CTU, and lets Driscoll (Alberta Watson) know that Ronnie's been killed, and that he's currently trailing Kalil (Anil Kumar), the terrorist who kidnapped Andrew (Lukas Haas). Driscoll asks Jack for his location, because she wants to pick Kalil up immediately, but Jack thinks the terrorist will lead him right to the compound where Heller (William Devane) and Audrey (Kim Raver) are being held. He refuses to tell Driscoll where he is, so she decides that capturing Jack is now CTU's top priority. Office politics are charged at the CTU office, and things only get more paranoid when Driscoll brings in Marianne Taylor (Aisha Tyler), over the objections of her second-in-command, Curtis (Roger R. Cross). Curtis has had (intimate) dealings with the ambitious Marianne in the past, and doesn't trust her. She immediately begins questioning Edgar (Louis Lombardi) about the day's events. Jack convinces Chloe (Mary Lynn Rajskub) to surreptitiously help him track Andrew's kidnapper. While Jack follows the suspicious terrorist, Chloe works on stealing satellite imagery of the area so he can follow from a safer distance. As Jack watches, Kalil pulls off the road and meets up with two thugs, who proceed to beat the helpless Andrew, demanding to know who he told about what he found on the Internet. Kalil drives off, leaving Andrew to be killed. Jack wants to follow him, but decides he can't leave Andrew to die. After saving Andrew's life, he rushes to catch up with Kalil. Kalil goes into a convenience store, giving Chloe a few more minutes to get Jack the satellite coverage, but she needs more time, and Jack is forced to take desperate action. Meanwhile, at the Araz home, Behrooz (Jonathan Ahdout) is horrified to learn that Dina (Shohreh Aghdashloo) has invited Debbie (Leighton Meester) over "to talk."
Day 4: 9:00 AM-10:00 AM Photos
Discussion Forum
Discuss 24 on our TV talk forum!