Day 4: 10:00 AM-11:00 AM
EPISODE: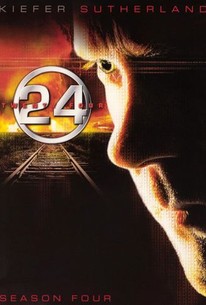 Episode Info
At the Araz home, Dina (Shohreh Aghdashloo) is putting on a show, being nice to Debbie (Leighton Meester), while secretly ordering Behrooz (Jonathan Ahdout) to murder the girl. He tries to get Debbie to leave, but it's too late. Jack (Kiefer Sutherland) is posing as an armed robber in order to delay Kalil (Anil Kumar) long enough for Chloe (Mary Lynn Rajskub) to get him the satellite imagery Jack needs to keep tailing the terrorist. Jack takes several people hostage in the convenience store, taking all of their cell phones and wallets, and before long, the police arrive. Chloe's being hampered by Driscoll (Alberta Watson), who suspects that she's in contact with Jack, and assigns Sarah (Lana Parrilla) to spy on her. Chloe in turn persuades Edgar (Louis Lombardi) to take over the satellite work she's doing for Jack. Driscoll has her own personal problems to deal with, as she learns that her schizophrenic daughter, Maya (Angela Goethals), has been acting up, and her neighbor has called the police. Driscoll intervenes, again with Sarah's help, and has Maya brought to CTU. Eventually, Chloe and Edgar get the satellite coverage, and Jack takes Kalil out of the store at gunpoint, using the terrorist's car to make his escape, and then letting Kalil go while he's being monitored via satellite from CTU. Driscoll is now aware of Jack's activities, and tells Jack that she's going to pick Kalil up, but then CTU intercepts a phone call from Kalil to Omar (Tony Plana) indicating that Jack was right about Kalil's destination. Meanwhile, Heller (William Devane) and Audrey (Kim Raver) make a daring attempt to escape.
Day 4: 10:00 AM-11:00 AM Photos
Discussion Forum
Discuss 24 on our TV talk forum!