Day 4: 11:00 AM-12:00 PM
EPISODE: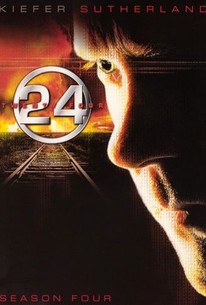 Episode Info
Dina (Shohreh Aghdashloo) and Behrooz (Jonathan Ahdout) successfully convince Navi (Nestor Serrano) that the teen has murdered his American girlfriend. But then the girl's mother (Phyllis Lyons) comes looking for her. Back at CTU, Chloe (Mary Lynn Rajskub) has been busted by Driscoll (Alberta Watson) for secretly helping Jack (Kiefer Sutherland). Driscoll decides not to press charges, but demands Chloe's resignation. On her way out, she tells Edgar (Louis Lombardi), "Good luck today. You're gonna need it." She's right, of course. Marianne (Aisha Tyler) knows that Edgar was secretly helping Chloe, and threatens to tell Driscoll unless Edgar bumps up her security clearance. Driscoll agrees to let Jack run the ground operation, and asks the local cops to back off of Kalil (Anil Kumar), but a couple of patrolmen get the message late, arousing Kalil's suspicion that he's being followed. Once CTU determines the location of the compound where Heller (William Devane) and Audrey (Kim Raver) are being held, President Keeler (Geoff Pierson) authorizes a preemptive laser-guided missile strike to destroy the facility before the terrorists can broadcast Heller's show trial. The marines are on their way, but they won't get to the compound in time, leaving Jack as the only hope for rescuing the two captives. Heller, meanwhile, comes up with his own drastic plan to keep his show trial and execution from going forward.
Day 4: 11:00 AM-12:00 PM Photos
Discussion Forum
Discuss 24 on our TV talk forum!