Day 4: 1:00 PM-2:00 PM
EPISODE: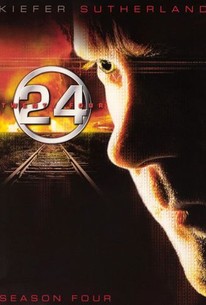 Episode Info
CTU has learned that the terrorists have stolen an override device, developed by the defense contractor, McLennan-Forster, which gives them remote control of nuclear power plants throughout the country. CTU's best available computer technician, Edgar (Louis Lombardi), has to overcome his nervousness (a mistake could send all of the plants into meltdown) to try to regain control of the plants. Dina (Shohreh Aghdashloo) is shot by Navi (Nestor Serrano) while trying to help Behrooz (Jonathan Ahdout) escape. The mother and son manage to get away, forcing Navi to go to an angry Marwan (Arnold Vosloo) for help in locating them. Driscoll (Alberta Watson) is distracted again when the doctors at the CTU lab inadvertently give Maya (Angela Goethals) a medication to which she's allergic. Audrey (Kim Raver) and Jack (Kiefer Sutherland) have to go to Felsted Security, so that she can view surveillance video of a Heritage Foundation meeting, where she saw a man whom she later saw at the compound with the terrorists. Paul (James Frain), Audrey's estranged husband, is still at CTU, and talks to both Audrey and Heller (William Devane) about his desire to get back together with her. Marianne (Aisha Tyler) is working with the terrorists, and contacts Henry Powell (Robertson Dean) -- the man Audrey recognized -- to let him know where Jack and Audrey are headed. Powell instructs Marianne to cover her tracks, because CTU will know there's a traitor in the agency after Jack and Audrey are killed. When the Felsted building is attacked, and Jack realizes that CTU has been compromised, he calls "the only person [he] can trust."
Day 4: 1:00 PM-2:00 PM Photos
Discussion Forum
Discuss 24 on our TV talk forum!