Day 4: 2:00 PM-3:00 PM
EPISODE: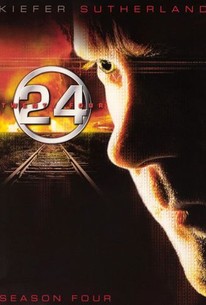 Episode Info
Edgar (Louis Lombardi) has successfully regained control of all but six of the nuclear reactors. The only way to stop those six from melting down is to find the override device. Jack (Kiefer Sutherland) calls Heller (William Devane) to warn him about the mole inside CTU. They come up with a plan to root out the traitor, but Marianne (Aisha Tyler) successfully diverts suspicion away from herself, and the wrong person is accused of being a spy and is tortured, under Driscoll's (Alberta Watson) supervision, for information. Tony (Carlos Bernard), now unemployed and separated from his wife, takes Jack and Audrey (Kim Raver) to his place, where they view the video Jack got from the security firm, and Audrey recognizes the man she saw at the compound. Jack gets help from CTU D.C. in identifying the man as Henry Powell (Robertson Dean), a former employee of McLennan-Forster, the defense contractor that developed the override device. Jack also learns that Powell has booked a helicopter flight out of town. Behrooz (Jonathan Ahdout) brings Dina (Shohreh Aghdashloo) to a hospital, where a doctor (Hector Luis Bustamante) recognizes that she has a gunshot wound, and notifies the police, forcing the mother and son to flee.
Day 4: 2:00 PM-3:00 PM Photos
Discussion Forum
Discuss 24 on our TV talk forum!