Day 4: 4:00 PM-5:00 PM
EPISODE: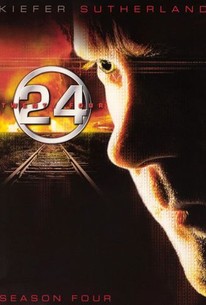 Episode Info
There's a showdown at the hospital. Navi (Nestor Serrano) is holding Behrooz (Jonathan Ahdout) hostage. He's afraid to kill him because he thinks Dina (Shohreh Aghdashloo) will tell the authorities everything if he does. Meanwhile, Dina warns Jack (Kiefer Sutherland) that if he doesn't save Behrooz, she'll do nothing to help him find the override. Eventually it all ends with Behrooz in custody, at which point Dina admits that she doesn't actually know where the override is. She gives them an address where the family got their assignments, and Jack and Tony (Carlos Bernard) go to investigate. They find an underground bunker with some plans involving the kidnapping and the override. Sarah (Lana Parrilla), having worked out a deal for Driscoll (Alberta Watson) to compensate her for being wrongfully accused and tortured, notices that the CFO of the company that owns the building is none other than Paul Raines (James Frain), Audrey's (Kim Raver) husband. Jack asks Audrey to call Paul and find out where he is, so that Jack can pick him up for questioning. When Audrey learns that Paul is about to leave town, she agrees to meet with him to discuss getting back together. Meanwhile, Marianne (Aisha Tyler) tells Curtis (Roger R. Cross) that she can access a file in Powell's office with information that might lead them to the override. Curtis suspects that a trap awaits, but he agrees to take her there. Tony heads back CTU, where Driscoll agrees to temporarily reinstate him.
Day 4: 4:00 PM-5:00 PM Photos
Discussion Forum
Discuss 24 on our TV talk forum!