Arrow: Season 2
(2013-2014)
SEASON: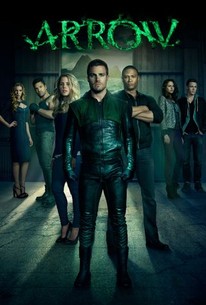 TOMATOMETER
AUDIENCE SCORE
Critic Consensus: The second season of Arrow boasts more fantastic action, as well as a widening cast of intriguing, richly written characters.
Tv Season Info
The Season 2 adventures of Arrow (based on DC Comics hero Green Arrow) begin with Oliver Queen (Stephen Amell) returning to Starling City after the Undertaking and discovering that things are in worse shape than he imagined. Oliver's major foe is Slade Wilson (Manu Bennett), who becomes the villainous Deathstroke after being injected with the strength-inducing serum mirakuru. Slade wants to kill Oliver because he blames him for Shado's death on the island. But he's not the only thug who causes trouble for either Oliver or Arrow. Oliver gets into a heated battle with China White (Kelly Hu) and Bronze Tiger (Michael Jai White) over stolen medical supplies. Shrapnel (Sean Maher) sets off bombs in Starling City. The Clock King (Robert Knepper) opens bank vaults using advanced technology. The Huntress (Jessica De Gouw) returns and takes hostages at the courthouse when her father is arrested. And the League of Assassins target Oliver and Canary (Caity Lotz). Elsewhere, Laurel (Katie Cassidy) fears for her job when Sebastian Blood (Kevin Alejandro) exposes her drug addiction; and Diggle (David Ramsey) pursues Deadshot (Michael Rowe) in Russia.
News & Interviews for Arrow: Season 2
Audience Reviews for Arrow: Season 2
Season 2 of Arrow takes the series to the next level as Oliver Queen attempts to become more than a vigilante in the wake of his failure to save the Glades. This season the Arrow must face off with the League of Assassins when he teams up with the Black Canary and offers her sanctuary in Starling City; meanwhile a ghost from his past returns and secretly builds an army of super-soldiers. The storytelling is quite ambitious, though it's a little messy and unfocused in the first few episodes. And, there's a pseudo backdoor pilot for the Flash with the introduction of Barry Allen into the show. The character development is also quite impressive, with each of the main characters getting a story arc; from Moira Queen seeking redemption to Laurel Lance spiraling into drug abuse. Powerful and action-packed, the second season of Arrow is more compelling and thrilling than the first.
This season was much better than the first one. Manu Bennett as Slade Wilson/Deathstroke steals nearly every scene he is in and is the bright spot of the entire season. Caity Lotz also turns in a strong performance.
½
Season 2 of Arrow takes Oliver Queen from vigilante to "hero" as he attempts to eradicate the only difference between (this television series' version of) Green Arrow and Batman, and introduces a "no kill" rule. Which is an understandable direction to take the show, but it is a shame to see it drop one of its few unique points. The action is as good as it was the first time around (although there is markedly less of it) the tension is still high and the emotional weight of the series still has impact, but all of it is maybe one step below what season one had. Arrow is still entertaining from beginning to end. Again, the whole season through I never once found myself thinking "wow, this is a boring/unnecessary episode" but unlike the first season, I did find myself thinking "wow, this is an unbelievable episode." As in: I don't believe that is something that would happen. Of course it's a science fiction TV show based on a comic book super hero so there's some leniency on the reality of course, but certain things didn't mesh with the suspension of disbelief, so I was brought out of the immersion of the show's mythos. Other things just seemed uncomfortably shoehorned in. The flashbacks to the island were my favourite part of season 1, but now they have gotten out of hand. "Five years on a hellish island" now is apparently "a few months on an island I was totally in control of with intermittent return dates of not-very-long at a time." The lies Oliver tells his friends and family are revealed, but they are "lies" that were told to the audience as well. In reality, this means that the showrunners thought of something they wanted to add, but they needed to mess with their own canon to do so, and now they have to explain it. "Oh Ollie was lying" seems a slack way of doing it. And if you were hoping that the costume design would change from last season, never fear! It got worse. The acting got better, but there was nothing outrageously bad about it to begin with. The events of season 2 are pretty much a play-by-play rehash of season 1. There's new characters, more people who know the identity of "The Arrow" and a move forward in time both current and flashback, but essentially it's the exact same story as the first go around. But the first go around really worked. It was fun as Hell and so the same thing can be said for season 2, of that there is no denying. And though this pattern has worked for years one and two, I just hope they pick up a new formula for the arc of the currently airing season though before it gets stale. As they say, three's a crowd. 68% -Gimly
Discussion Forum
Discuss Arrow on our TV talk forum!