Attack on Titan: Season 3
(2018)
SEASON: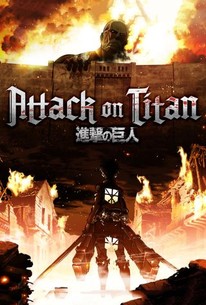 Rate And Review
Audience Reviews for Attack on Titan: Season 3
This Show is perfect the story is so good . The fight scenes are so good and you might get emotional too and the suspense makes this show a masterpiece .

It can be a bit slow at times but overall very good

One of the written seasons so far this season takes aot to new levels of storytelling leaving in awe of suspense with each episode

This season is outstanding.

Who's the beast? Why is Levi amazing?! What the heck is going on—?! By the end of this season— my mind was blown. So great

ep16: The most cruel yet most inspiration show. What is the meaning of life anyways? Does it still have meaning even if we don't achieve what we want to accomplish? I came here to watch titans, ended up being taught what it takes to be a great leader, what brings true meaning of life, what does it mean to sacrifice. Man, this is simply too good. Maybe the end result isn't what brings meaning, we are all going to die anyways. Whatever the result is, it wouldn't matter at all. What does matter is what we choose to believe along the journey, what beliefs we follow, and what actions we take to move forward on that path. The meaning of Attacking on the Titans is not to eliminate all of them, but instead, in the journey of trying to do so, discover who we are, build meaningful connections, and become the person that we are meant to be. The suffering is the path, and the path, is the meaning.

THIS WAS SO FRESH, BTW ANNIE DESERVES TO GET STOMPED AND CRUSHED. OVERALL THIS SEASON WAS SO CRISP. THE OPENINGS WERE AWESOME AND THE BAD REVIEWS ARE FROM ANNIE AND ANNIE 2.0 AND ANNIE 3.0, ETC

Absolutely good. The story is so new and different and all the seasons are well made. waiting for the next season. Watch before you die. It's a masterpiece.

I wasn't ready! Forget one of the best anime shows out there, this is one of the best TV shows out there. Period. Erwin Smith and Levi Ackerman have my heart forever.