Big Hero 6: The Series: Season 1
(2017)
SEASON: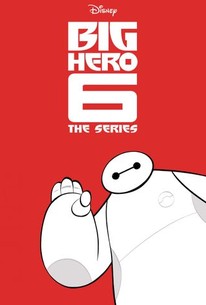 Rate And Review
Big Hero 6: The Series: Season 1 Photos
All Critics (3) | Top Critics (0) | Fresh (3) | Rotten (0)
I thought the animation looked really nice, it kind of did its own thing but it was in the feel of the film.
Some, but not all, of the magic that made the movie so resonant with fans of all ages returns in this sequel series.
Big Hero 6 The Series has the potential to be Disney's best movie to TV series yet and that says something coming off true classics.
Audience Reviews for Big Hero 6: The Series: Season 1
A LOT OF WASTED POTENTIAL.First thing which hit me was the budget animation. It looked cheap. I say this in comparison to the movie's animation style. The biggest problem with this series is that the characters are not more explored. The plot does not feel developed. Even though the episodes sometimes build up to something, it is a gigantic let down. I hope it becomes better in the future

Cômico e nostálgico, traz referencias muito interessantes da cultura POP, uma continuação digna para o filme.

Big Hero 6 the Series is better than the movie. It has a better villain, a better story arc, and its funnier! There are some episodes that are duds, but some of them are incredible. This is mean for ages 7-15 but all ages can enjoy.

Wow. That's all I can say after the season's finale. This show is almost perfect, making you feel the magic from the Big Hero 6 movie, but also creating its own cool storytelling. The characters are so on point, giving us even a villian that could be one of Disney's so far. Can't wait to watch the next season.

This is the best cartoon I have ever watched. It's funny (obviously), but it's also well-balanced with serious drama and sadness. Let's hope that season 2 will be even better!

It's a very cheesy show, I won't lie. The animation feels a bit cheap. But it's nice to see the characters each get their own spotlight and there's a lot of potential for the second season! I only wish they had done a bit more with the Obake storyline.

The series picks off right where the movie left off and brings a really good balance of humour and drama