Black Sails: Season 2
(2015)
SEASON: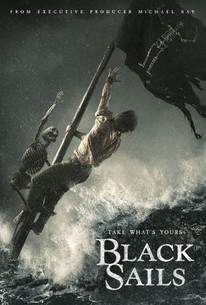 Rate And Review
Black Sails: Season 2 Photos
Tv Season Info
Series 2 of the swashbuckling adventure about brutal pirates begins with Captain Flint (Toby Stephens) and the Walrus crew stranded on an island while Spanish soldiers guard the treasure from the Urca de Lima. As a result, Flint devises a plan to sneak aboard the ship and launch an attack. Meanwhile, Eleanor (Hannah New) struggles to maintain her hold at Nassau when the deadly Ned Low (Tadhg Murray) and his equally vicious crew arrive. Elsewhere, Rackham (Toby Schmitz) tries to restore his reputation after being labeled a "crew-killer," and Vane (Zach McGowan) holds a new position at the fort on New Providence, where he braces for an assault led by a familiar face.
News & Interviews for Black Sails: Season 2
Audience Reviews for Black Sails: Season 2
Best to avoid, historical revisionism, boring plot. One of the pirates has way too much plastic surgery (cheek fillers) looks like an alien

You know, the ship scenes are so good it keeps you going during some of the horrendously boring scenes on land. The female characters are such humorless nags you can't wait for the guys to get away. How bout more adventure on the high seas and less hen pecked simps.

This series is increasingly impressing me. This series is very tense and spectacular or even time and is developing very well. I really like the roles of Toby Stephens (Captain Flint) and Zach McGowan (Captain Vane) and the action isn't even talked about. I recommend it to anyone who loves action and pirates

This series is a masterpiece, this one is much better than the first, it is just a spectacular season, it reminded me of Game Of Thrones (which for now remains my number one !!!)

I'm surprised, this season is better than the first !!! This series is getting better since battle scenes, violent scenes, more betrayals among other things ... in conclusion it is like Game of Thrones but with pirates and I liked it.

Entretenida, dinamica, dialogos entrelos personajes buenisimos

Great series and original story. Sadly, as in many recent series, there is an inclusive element that spoils the 'historical feeling', by in this case, too much gay elements. The whole cast of key-players is involved in homosexual relationships. I don't oppose this in itself, but by putting the emphasis on it, it appears overly activist. One can wonder why tv-makers have the tendency to lecture audience on identity politics.

After a somewhat slower season 1 season 2 is where things get really good. If you're not hooked so far give up. If you like it so far - prepare for season 3!

Great storytelling and adventure with fictional characters sharing the space with the legends of the golden age of pirates. The overarching doom inching closer every minute whilst our antagonists and protagonists squabble and switch sides and roles with every throw of the dice. Quite compelling to watch.

Like "game of thrones" with pirates - i love it!!!