SEASON: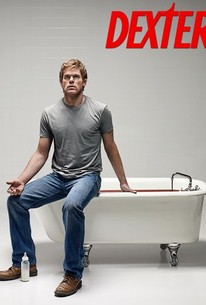 Tv Season Info
The first series of this drama follows Dexter (Michael C. Hall), a Miami forensic expert who moonlights as a vigilante, as he searches for a murderer known as the Ice Truck Killer. Along the way, Deb (Jennifer Carpenter) is reprimanded for violating the chain of command, Doakes (Erik King) has a brush with Internal Affairs, and a dismembered body is left at a Christmas display. Lauren Velez, David Zayas and Julie Benz also star in series 1.
Audience Reviews for Dexter: Season 1
½
The show is a clever reversal of the monster of the week formula of popular major networks with a more robustly developed central narrative and characters. Dexter is a great thrilling ride with a surprisingly deep layer of emotional investment packaged around a very thrilling central premise. The show might have faltered under a weaker actor but the central character is presented with such gravitas the ambitious layers of the show really work. The show is certainly marketed as a horror-drama but consistently keeps its feet more firmly in the dramatic. The dark elements are, however, brooding and hefty enough to create a really captivating piece of programming.There is a bit of a formal to each episode that makes the unique premise of watching a serial killer carry out his work more digestible and engaging for a wide audience. The cast of this show is generally uniformly excellent, which is no small feat with such a large ensemble of individuals. There is a solid mix of interesting characters who largely track the usual cop stereotypes but with brilliant execution and a strong believable humanity. The major villain of the season is also well cast and executed. There are some interesting musical choices and the opening montage to each episode is very interesting and well tailored to the show. The production design is also well funded and the directorial work is tastefully done although not really standout.
Discussion Forum
Discuss Dexter on our TV talk forum!