Doctor Who: Season 2
(2006)
SEASON: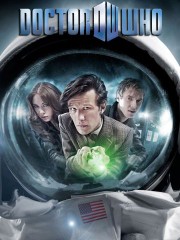 TOMATOMETER
——
Average Episode Score:
N/A
AUDIENCE SCORE
Critic Consensus: No consensus yet.
Episodes
Air date: Oct 6, 2006
The Empire of the Wolf threatens Queen Victoria's (Pauline Collins) safety. Rose and the Doctor try to protect her.More
Air date: Oct 13, 2006
Bat-like creatures are haunting a contemporary London school. While investigating, the Doctor runs into an old friend, Sarah Jane Smith (Elisabeth Sladen), who's already on the case.More
Air date: Oct 20, 2006
The palace of Versailles is under attack by evil droids in 18th-century France. Madame de Pompadour's (Sophia Myles) only hope is the Doctor, a stranger she's never met, except in mysterious dreams she's had since childhood.More
Air date: Oct 27, 2006
The Tardis is trapped on a parallel Earth, where Rose discovers that her father is still alive. But sinister forces are at work and British society is being prepared for the Ultimate Upgrade. An old enemy of the Doctor's is about to be reborn in a new and terrible shape.More
Air date: Nov 3, 2006
Conclusion. London falls to the Cybermen while Jackie is usurped by Lumic. Elsewhere, the Doctor, Rose and Mickey plot a strike against the Cyberfactory. Shaun Dingwall. Roger Lloyd Pack.More
Air date: Nov 10, 2006
Time travelers visit London in the 1950s and uncover an alien secret amidst celebrations honoring Queen Elizabeth II.More
Air date: Nov 17, 2006
Part 1 of two. The TARDIS experiences trouble near a black hole, and Rose and the Doctor encounter the mysterious Ood.More
Air date: Dec 1, 2006
Conclusion. Rose fights the Ood, and the Doctor weighs a sacrificial decision as the planet is on the verge of falling into the black hole. Toby Zed: Will Thorp.More
Air date: Dec 8, 2006
An ordinary man called Elton becomes obsessed with the Doctor, Rose and their mysterious blue box. Soon his life is turned upside down.More
Show More Episodes
Doctor Who: Season 2 Trailers & Photos
Tv Season Info
The BBC continues in its successful quest to rebrand the iconic "Doctor Who" franchise with this second series of 21st-century episodes. The kitschy sets of old have been discarded as the 10th incarnation of the Doctor (David Tennant) teams with his loyal companion Rose (Billie Piper) to zip through the galaxy in the Tardis while confronting a vast array of villains and intergalactic troublemakers. This time out, Queen Victoria and the Cybermen come face to face with Tennant's Doctor, and longstanding fans of the show will be delighted to see the return of everyone's favorite robotic dog K9. … More
News & Interviews for Doctor Who: Season 2
Friend Ratings for Doctor Who: Season 2
No Friends? Inconceivable! Log in to see what your friends have to say.
Login
All Critics (3) | Fresh (3) | Rotten (0)
Doctor Who Season Two (or Season 28, depending on your anal-retentiveness) has been a string of entertaining highs and lows, in terms of both quality and intensity.
Doctor Who is not only looking at how things were, but also at how they are, using the lens of history to gain perspective on the present.
Audience Reviews for Doctor Who: Season 2
½
Truly amazing sci-fi blended seamlessly with emotional drama and wonder.