Everything's Gonna Be Okay: Season 1
(2020)
You might also like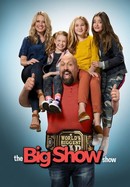 Into the Unknown: Making Frozen II
Rate And Review
Everything's Gonna Be Okay: Season 1 Videos
Everything's Gonna Be Okay: Season 1 Photos
News & Interviews for Everything's Gonna Be Okay: Season 1
Audience Reviews for Everything's Gonna Be Okay: Season 1
Beautifully written, thoughtful, every actor cast to perfection. Any writer or performer who can make you want to laugh and cry in the same instant, and do so consistently, is genius.

Freeform's Everything's Gonna Be Okay is a marvelous comedy series.

Too woke and predictable. Disney & ABC have given up on creative writing and content in favor of politically correct tripe.

I really loved this series. I'm not on the autism spectrum myself, but I liked seeing a girl on the spectrum (with a personality), because you usually see guys, and people who are more used as a protagonists tool for personal growth. The character on the spectrum is called Matilda, the half-sister of Nicholas, the main character. I think Nicholas is the main character because he has the most storylines. Later Genevieve (Nicholas' youngest half-sister) and Matilda get more storylines, but Nicholas has the most. The characters on the spectrum are played by actors on the spectrum, which is great. (Again, I'm not on the spectrum so if you want more information on this subject, please look into reviews from people who are.) Josh Thomas (actor and writer of the series) is extremely funny and nailed his character, just like the rest of the cast. The characters are funny and very well written. I have loved this series and can't wait for Season 2 to come out!

This is a great comedy for lebgtq+ people, it showcases the main character going through the ups, and downs of everyday life. If you enjoy Please like me who shares the same main actor, then you'll love Everythings gonna be okay.

This a warm and intelligent comedy which left me wanting more...can't wait for the next season! Josh Thomas is a revelation! Most episodes brought me to tears AND out-loud laughs, which is a precious and difficult-to-achieve combination. ❤️

Quirky, amusing, and loveable cast. Brings a great humor even to the most uncomfortable of subjects

I love when a show is not predicable.

Love it... need more seasons

This show is honest and charming while still being really funny. While there probably aren't very many families that will directly identify with the setup, I think everyone can identify with emotions and reactions the characters have. The writing is superb, and I hope the show continues for several more seasons.