Fry and the Slurm Factory
EPISODE: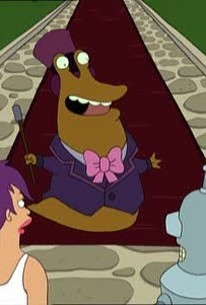 Episode Info
In this parody of Willy Wonka and the Chocolate Factory, Fry tries to find a golden bottle cap in his favorite beverage, Slurm. He tries using the professor's latest invention that can see through metal, but he ends up swallowing a golden bottle cap and winning the contest. The crew gets to go on a tour of the Slurm factory and party with Slurms McKenzie, the party slug mascot who is sick and tired of constantly partying. Fry gets thirsty on the tour and falls into the Slurm river, so Leela and Bender try to save him. They all go down a drain and discover that Slurm is really made from the secretions of a giant queen slug. They are captured, but Slurms saves them. Pamela Anderson guest stars as the voice of blonde "Slurm Babe" Dixie.
Discussion Forum
Discuss Futurama on our TV talk forum!