Gotham: Season 2
(2015 - 2016)
SEASON: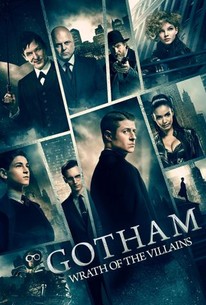 Rate And Review
Tv Season Info
Season 2 of the gritty Batman prequelfinds Jim Gordon and Harvey Bullock dragged deeper into the fight for Gotham. The season's first half, subtitled "Rise of the Villains,"opens with Gordon being fired from the forceandBullock tendering his resignation; and Gordon teaming withCobblepot, now a crime boss, in an attempt at being reinstated. Other storylines find Theo Galavan (James Frain) masterminding the escape of a half-dozen murderous maniacs from Arkham Asylum;a new GCPD captain, Nathaniel Barnes (Michael Chiklis), joining forces with Gordon; and Galavan blackmailing Cobblepot into helping his quest to become mayor. The season's second half, subtitled "Wrath of the Villains," finds Cobblepot sent to Arkham Asylum, where he's treated by one Dr. Hugo Strange (BD Wong); the dastardly Mr. Freeze (Nathan Darrow) making his mark; and Bruce investigating his father's secrets.
News & Interviews for Gotham: Season 2
Audience Reviews for Gotham: Season 2
Esta es la mejor adaptación de todas. No se admiten discusiones.

The new antagonist is as bad as Fish was but the rest remains a blast. The show has embraced the insanity and it feels so good.

This season made Gotham one of my favorite shows. It mostly drops the monster-of-the-week format and develops most characters in such an amazing way.

Completely unrealastic show in every way. The main villains stay alive no matter what, especially Penguin who scoffs and kills right infront of police face and they do nothing. Cops can't shoot or wont shoot, bad guys rule all day and night. I wonder how Gotham never ran out of people to kill who arent viallains. I wish they followed their own story instead of being so predictable to who lives or dies.

Gotham season two is a lot better Then the first, It understands the source material better My grade: A-

Even better than Season 1 is Season 2 ; With All New Villains and Bruce Wayne finnaly coming closer to being Batman and even better preformances than last season!

It was a bit better than season 1. Season 2, well not feeling like the same show at all times, sometimes super quirky and sometimes serious was a solid tv season. The one thing that was truly bad was the storyline with penguins dad.

Gotham is still dark and gloomy. But even without Batman, surprisingly, the series keeps on working smoothly.

Gotham is my favorite of all time

The show has great actors and great Art. The whole show has a dark feeling to it, like most DC shows. And like other DC shows just blows marvel TV shows out of the water. What's curious if that in the big screen DC can't interpret is success, and there marvel is King. All I'm all a great must see show in my opinion.