Marvel's Jessica Jones: Season 3
(2019)
Where to watch
Buy from $1.99
Buy from $1.99
Subscription
Buy from $1.99
You might also like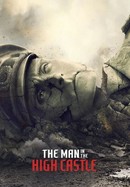 The Man in the High Castle
Rate And Review
Marvel's Jessica Jones: Season 3 Videos
Marvel's Jessica Jones: Season 3 Photos
News & Interviews for Marvel's Jessica Jones: Season 3
Audience Reviews for Marvel's Jessica Jones: Season 3
By far the best Marvel TV show. It is now official, Jessica Jones is quality superhero content for demanding audience members. You can tell women wrote and directed. It is unacceptable that this show has not given more clout. Marvel, Disney... What are you doing? Make more content like Jessica Jones! And continue to give the pen and the camera to women!

I like how shows present to us Jessica as character, after all 3 seasons I could say definitely, Jessica Jones is one of the coolest Marvel characters !!

Pendulum swung to introduce an extreme of pushed homosexuality in your face. This season made the series drier and with Trish being more of a man character made it less Jessica Jonesy.

Season 3 of Jessica Jones is like season 1 a real thriller. Jeremy Bobb nails the role as a phatic psychopath, that's a compliment by the way; also Benjamin Walker nailed it to bring in the humour that I needed after season 2. The season has some good side stories and the main story is a thriller as the Jessica Jones show should be.

(all seasons) "Jessica Jones" is superhero fare with its own personality. The cast is very good, with a perfect choice for the titular character in Krysten Ritter and a host of strong performances all around including a delicious David Tennant. All of the main characters carry their own weight, therefore one is interested in all of their separate arcs. Furthermore, the show strikes as particularly socially aware but in an organic, subtle manner. And of course the action and suspense keep you glued throughout.

Worst of all seasons but still very enjoyable. Jessica's character is great as usual, very good thread stretching from season 2 of Trish Walker

This season is on the same line as season 2 for me. It has a weaker storyline, but still fun to watch. Episode 2 was kind of boring because it focused all on Trish. I would have enjoyed it more if it was more divided trough the season. Jones does hold this season up and the side charcters are a little weaker.

This and Luke Cage are the only ones from this era worth watching. Trish gets kind of annoying, but all in all Jessica is definitely an interesting character

It was okay. Three seasons was probably enough

Didn't expect that to happen at the end. Really another great season. You would not know anything in this season and expect something but another thing happens. Really good.