See No Evil, Hear No Evil, Smell No Evil
EPISODE: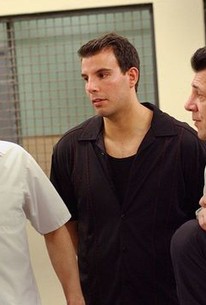 Episode Info
The late Shirley Bellinger (Kathryn Erbe) assists Hill (Harold Perrineau Jr.) with the narration. Mayor Wilson Lowen (Tom Atkins) is on trial for the 1963 murder of two black girls, and Governor Devlin's (Zeljko Ivanek) supportive comments have caused race riots. When Lowen is found guilty, Devlin decides to send him to Oz until things cool down. He warns Glynn (Ernie Hudson) to keep Lowen safe. In Oz, Beecher (Lee Tergesen) learns about his father's murder. When Lowen, who has a personal relationship with Schillinger (J.K. Simmons), chokes on some food, Beecher saves his life. In response, Schillinger vows not to interfere with Beecher's parole hearing, and Beecher is granted parole. Martinez (Carlos Leon) and Penders (John Lurie) come down with the same illness as White (Michael Wright). Nathan (Lauren Velez) tells Glynn that they've been exposed to toxins, and that Martinez needs to be hospitalized. Glynn refuses to transfer Martinez because he doesn't want the story getting out. Morales (David Zayas) is worried that Martinez will spill the beans about the assault on Brass (Blake Robbins). Rebadow (George Morfogen) develops feelings for Stella (Patti LuPone), while Busmalis (Tom Mardirosian) still refuses to see Norma. Kirk (Sean Dugan) continues plotting to destroy Mukada (B.D. Wong) as his conflict with fellow death row prisoner Hoyt (Evan Seinfeld) comes to a head. Said (Eamonn Walker) works to get Hill's memoirs published. When a telemarketing company sets up shop in Oz, Redding (Anthony Chisholm) decides to volunteer his crew in order to get them out of drug dealing. Alvarez (Kirk Acevedo), determined to go straight, begs his wife to visit him. O'Reilly (Dean Winters) turns to Pancamo (Chuck Zito) to deal with Schibetta (Eddie Malavarca), while Robson (R.E. Rodgers) is forced to turn to Cutler (Brendan Kelly) for protection from Pancamo.
See No Evil, Hear No Evil, Smell No Evil Photos
Discussion Forum
Discuss Oz on our TV talk forum!