Sons of Liberty: Season 1
(2015)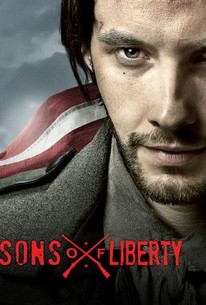 TOMATOMETER
AUDIENCE SCORE
Critic Consensus: Sons of Liberty's action and sex titillate, but not enough to compensate for the show's bland, historically inaccurate story.
Sons of Liberty: Season 1 Photos
Tv Season Info
America's Founding Fathers band together to lay the foundation for a nation.
News & Interviews for Sons of Liberty: Season 1
Audience Reviews for Sons of Liberty: Season 1
For those looking for an insightful historical series, full of rich character studies and a nuanced understanding of the conflict that gave birth to the United States, in the same vein as the brilliant John Adams, Sons of Liberty will not be your cup of tea. For those of you looking for a compelling narrative with action overtones and a solid historical backdrop, in the same vein as the brilliant in its own right The Patriot, Sons of Liberty will also disappoint. It's not a bad series, to be sure, but it's an exercise in comprise, desperately wanting to appear cool to a mainstream audience, but also somewhat palatable to history buffs. The result is an, at times, solid showing and, at times, rather lackluster showing. The action is executed smoothly, with tension, crisp editing, and strong effects. The series largely looks great, a well conceived period piece, and the overall world building is effective. The writing is only vaguely stylized in the period's time, but sharp, and the ensemble cast is solid, with the most compelling performance coming from Marton Csokas. The problem, however, lies in the lack of a compelling narrative force. The conflict is vastly oversimplified, and the history is very heavily fictionalized. In lieu of the historical value, one would want a storyline with weight, but Sons of Liberty never gives us that, rather hints of characterization without realization, fully of one-note characters in a period that was awash with intellectual nuance, a hard thing to do. An entertaining mixed bag. 3/5 Stars
½
Made with good intention, but ultimately failed to be engaging because of the historical inaccuracy and dreadful acting.
½
I never liked history in school, but that could be because it was never on the parts of history or particular cultures I was interested in. (Egyptians, Vikings & the Norse Greek & Norse Mythology etc) When the Tudors came out I was mad we didn't have the Showtime channel. All I have to say is if there is any truth to the show of actual events, then why couldn't we have had this while I was in school (not that they covered that) Now the History Channel has Vikings going into it's 3rd season February 19th and it's a great show. So what would History do with our founding fathers? Well I watched it in support for one of my favorite actors... Kevin Ryan who played Maguire on the BBC America show (of 2 seasons) Copper. Sons of Liberty is a 6 hour mini-series starring Ben Barnes (yeah Prince Caspian of the Narnia Movie) as Samuel Adams and every time I hear the name I wanted to drink my beer (but my Octoberfest beer is reserved for the new season of Vikings! I should have drank it during one 2 hour episodes. Kevin Ryan played a Red Coat John Pitcairn @Michael Raymond James who played Neil on Once upon a Time and the red head's husband Rene on True Blood & was in 2 episodes of The Walking Dead as Dave (when Hershel & Rick are in that bar) Marton Csokas as Britain's General (is it just me or does this guy always play a D*Bag?) and Benjamin Franklin... played by 'Big Jim' Dean Norris from Under the Dome. So there's plenty of great actors What about the show itself? I do remember learning about the Constitution & Preamble etc in I think grade school I don't remember if I cared but if not; I would say to definitely have shown this mini series if you are working on the founding fathers. Your students will likely not be bored. The action is great, and even when there is none- they still won't doze off! I like the grief they gave the General and the underground market they ran. (remember people NEVER make anything solid as a means for identifying someone for a secret group, however , if you were to do something make it invisible ink! just keep a specific mark or something on it so you know what it is) A Another Hit for the History Channel http://www.history.com/shows/sons-of-liberty * http://www.imdb.com/sons of Liberty http://en.wikipedia.org/wiki/Sons_of_Liberty
Discussion Forum
Discuss Sons of Liberty on our TV talk forum!