Two Guys Naked in a Hot Tub
EPISODE: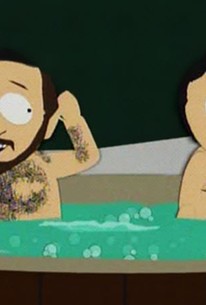 Episode Info
This is the middle of a three-episode story arc in which each episode reveals what Eric, Stan, and Kyle are up to while their parents attend a meteor shower party. Stan's parents have brought him to the party, but force him to play with the uncool kids downstairs. While his parents confront a possible change in their sexual orientation, Stan leads the other kids, dressed in women's clothes, in an escape attempt. The Bureau of Alcohol, Tobacco, and Firearms; Charlie's Angels; and sexual swingers all suffer satiric barbs in this more irreverent than usual episode of South Park. "Two Guys Naked in a Hot Tub" first aired July 21, 1999, on Comedy Central.
Two Guys Naked in a Hot Tub Photos
Discussion Forum
Discuss South Park on our TV talk forum!