South Park: Season 20
(2016)
SEASON: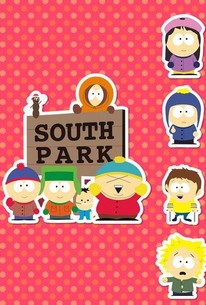 Rate And Review
South Park: Season 20 Photos
Tv Season Info
Season 20 of South Park continues the misadventures of Stan, Kyle, Eric and Kenny in the fictional town.
News & Interviews for South Park: Season 20
Audience Reviews for South Park: Season 20
Probably the worst season, not a fun story, and not that funny.

Wow bro that was so cool I mean it was

This is so great and cool

The show showcases a funny plot throughout the season, there are magnificient hilarious moments (like Butters calling a march with his pants down). However, there are multiple reasons that make this season feel unnatural, regarding the kind of humor we're used to and have enjoyed so far. First, Cartman has been completely overriden for a simp boring guy. I get what's the writter's aim for Cartman in this season, but for someone that has replicated Hitler's speech and faked a condition to join the Parlympics, this just does not work. Cartman's grilfriend is definitely the opposite of what Cartman describes her like, she's unfunny and boring. Heidi definitely contributed to give this season this weird sensation. The story in general isn't bad, it definitly works as a time-killer, but more than that, there's not many extraordinary things to say about this season.

The twentieth season is the weakest ever season of South Park which has its funny moments and is as smart as usual but is overall to serialised with none of the episodes being particulary good. "Member Berries" is a solid opening which is far from a great episode but the conclusion in which the troll is revealed to be Gerald Broflovski is a well done twist ending. "Skank Hunt" is a better episode with Gerald Broflovski being absolutely hilarious in this one and the scene where the boys break all of Cartman's electronics is brutal. "The Damned" is the best episode. Watching everyone react to Heidi's quitting of Twitter as if she had committed suicide was such a hilarious and truthful take on how important we perceive the internet and social media nowadays and the presidential debate is easily the best moment of this entire season. "Wieners Out" is where the season starts to fall apart in my opinion but the scene in which Sheila urinates on Gerald is a very memorable and traditional South Park crazy scene. "Douche and a Danish" is a terrible episode. The Cartman/Heidi pairing isn't memorable and cartman's overusage of the Girls are funny line is becoming more and more annoying, the Danish are unfunny and boring characters and I'm not a fan of the member berries but luckily Mr. Garrison could entertain with his stand up comedy show. "Fort Collins" is even worse with Cartman's women are funny line really growing old and the danish continue being annoying boring unfunny characters with their annoying jingle becoming really repetitive, the trolls are also not funny and the big emphasis of episode was on the member berries who I'm not a fan off, while I am a massive nostalgia favoring person I just find these member berries to be annoying and unfunny. "Oh, Jeez" is again just bad. That is because the creators always intended for Trump to lose and when he actually won, it screwed up their entire storyline and the effect is evident as the episode feels disjointed and aimless with last minute changes being apparent, it was clear some material had been reworked and most obvious in the interaction between the victorious Mr. Garrison and the distraught Randy, which didn't quite gel with where the show left them two weeks ago, and perhaps the idea of Bill Clinton forming a Gentlemen's Club would have made slightly more sense if he actually had achieved the status of the country's first First Gentleman and I'm starting to grow tired of the Cartman/Heidi subplot."Members only" It was fun to watch Mr. Garrison as the newly appointed and totally clueless president. "Not Funny" Is a pretty accurate way to sum up this episode and indeed the entire season in two words. "The End of Serialization as We Know It" is just the worst with all of the three subplots poorly concluded but as anticlimactic as it was, this episode did have some salient points to make about the general state of the world. I just hope that the title of this episode proves true for later seasons as I really don't like these continuity driven episodes, while it was a nice experiment I feel like it should stop now as it failed in Season 18, 19 and now 20 it's clear that this is just not how South Park should work the should just have a fresh new story every week as previous seasons have showed South Park should just be something to pick up and watch if you feel like laughing. So in the end South Park season 20 is my least favorite season of all time. It's completely serialized with all 10 episodes being directly linked to each other and while it was a good experiment it should stop now as it completely failed. Still this season isn't bad or anything it still has good moments and receives a 2.5 star rating meaning it's still worth watching, it just isn't as good as any past seasons unfortenately with Eric Cartman being really bad this year and none of the episodes being really good or really funny. Best Episode: "The Damned" Worst Episode: "The End of Serialization as We Know It"

Worst South Park season ever

Once again using the over-arching story technique from last season, season 20 mostly succeeds in providing laughs and smart commentary, however, the second half of the season really suffers and finishes with more of a whimper than a bang. 3/5 stars

Getting worse every year... Sad

South Park is focusing heavily on a political left gamble here, alienating half the nation viewers. Some interesting focus on Season continuity from the past is nice, as well as computer-culture. Show is going down-hill, however, taking a weirdly pious approach towards the Clinton campaign.