Tear Along The Dotted Line
(2021)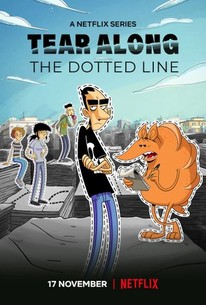 Where to watch
Subscription
Rate And Review
Tear Along The Dotted Line: Season 1 Photos
Audience Reviews for Tear Along The Dotted Line: Season 1
Truly one of a kind show that combines relatable witty humor with beautiful touching themes, one of those shows where if you don't like it, we might not be able to be friends.

Strasznie spięty, upierdliwy, nieprzyjemny bohater, którego przerasta każda pierdoła. Ale rozkminy i przesłanie czasem fajne

Boring, a nonsense from a communist that does not deserve your time

Esta serie aunque no lo crean es la más humana que he visto en mucho tiempo, nos relata problemas de la vida diaria, el cómo los enfrentamos y el cómo los ve cada quien. Sí tendría que decir algo más es que me sentí muy identificado con lo que decía y en verdad me gustó como fueron yendo hasta el final de la serie. Habla de la vida y el como todos quisieran cortarla siguiendo la línea de puntos me marca la sociedad (el sentido de la vida), pero en verdad la vida no es una línea recta sino es cambiante y podemos irnos por otro camino sin darnos cuenta o temiendo que se vaya nuestra vida de manera diferente a lo que habíamos planeado. Y el final te estremecerá, es lo único que diré porque este te agarrará por sorpresa y no lo veras venir, no es por crear expectativas pero en verdad cambia lo planteado en la serie y te pone a pensar más a profundidad lo que es la vida, el como somos autónomos en nuestras decisiones, el que no vemos todo de una persona, solo vemos lo exterior y no el interior de estas, etcétera. Si estás en un momento difícil de tu vida y no sabes que hacer te la recomiendo, dura lo mismo que una película y te hará sentir mejor. Lo malo es que dura poquísimo pero con esos 6 capítulos te encantará la serie.

I thought this series was great. I really can relate to the characters including the main character Zero. I suffer from Anxiety myself and when I learn how it comes to be with the dreams of trying to get my career dream. I was moved to tears on the last episode and yes I have been in a violent relationship myself and wished Zero just told her. I understand the struggles of life as someone in her late thirties enjoying a relatable series. I do hope for another season of this series.

On of the best show of the past 30 years

Laughs, sadness and food for thought all packed in a fast paced and enjoyable animated mini-series.

There are tears along that lines, but also laughs and reflections. Narration is filled with pop references and the author, getting involved and talking about himself, tries to talk to everyone. And he manages not to betray himself and his origin.

A primera vista creí que solo sería una serie de risas, que intentaría hacer risas con situaciones de la vida cotidiana que quizás más de uno se vio representado en el protagonista, pero poco a poco vemos sus miedos e inseguridades, este se descarga con el espectador y su conciencia, la cual me encanta como a veces es pero otras hace chistes que no van al caso pero es entendible por como es el mismo Zero. La forma en como cada uno puede verse identificado en el protagonista pues como dice en el capítulo 6, y a lo largo de la serie, todos debajo nuestro tenemos solo un rejunte de papeles. Los 2 primeros capítulos parece que si Zerocalcare se hubiera metido 3 líneas de Cocaína antes de grabar, pero queda genial a la vez. El como se tiene una contraparte de amistades con Sarah y Secco es increíble, el como uno es un despreocupado por todo y le da igual mientras que Sarah es por así decir la voz de la razón. Es chocante e impactante el capítulo 6 pues no me lo esperaba, Secco daba indicios ya cuando dijo "Al menos no estamos en el cuarto de una muerta" pero el como fue tan de golpe impacta. El tema a pesar de no pasarse capítulos o temporadas hablándolo, en unos minutos lo explica muy bien, que no hay un porque verdadero, que no uno siempre tiene la culpa y el mundo no gira siempre alrededor de tí. La animación es algo nuevo en parte, esto acompañado por un soundtrack fenomenal, con el tema de Giancane - Strappati Lungo i Bordi es fenomenal, una serie que no les tomara mucho tiempo ver, que es muy disfrutable y se los recomiendo un montón.
See Details