The Big Bang Theory: Season 8
(2014 - 2015)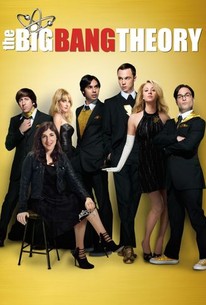 Rate And Review
The Big Bang Theory: Season 8 Photos
Tv Season Info
Relationships dominate Series 8 of The Big Bang Theory, but the gang continues to find difficulties around every corner. Penny and Leonard both blossom and flounder in the wake of their engagement, while Sheldon and Amy seem to make progress, though Amy is still unhappy about their slow pace. Raj, too, has a steady girlfriend in Emily, but she has a few quirks he finds unappealing. Howard and Bernadette face an awkward situation when Stuart moves in with Howard's mother and Howard becomes especially frustrated after they develop a mother/son bond. But, the gang bands together to help Howard cope with a big personal crisis.
News & Interviews for The Big Bang Theory: Season 8
Audience Reviews for The Big Bang Theory: Season 8
Season 8 is another funny and great season of "Chuck Lorre's" hit TV series "The Big Bang Theory". The majority of the episodes have been good. The series finale wasn't very entertaining, sometimes I feel TV comedies are turned into "Soap Operas". The acting in Season 8 is good, "Jim Parsons" is still an amazing actor. This season was filmed very well, except sometimes I feel the "Chuck Lorre" doesn't work as hard on the show as he used to. Season 8 was still funny but not as funny as previous seasons, this is because it's the eighth season and a lot has been already done. "The Big Bang Theory" is still a humorous show, but not as good as previous seasons. If you are a person who likes comedies then I recommend watching "The Big Bang Theory" as it is a funny show. I give "The Big Bang Theory: Season 8" a 7/10.

Who in their right mind ended the season like that. Who thought, 'For added drama l'm going to make Leonard technically cheat on Penny by having him make out with a fellow scientist when he went on expedition with Stephan hawking in season 6.' Seriously who made this happen!

This show as a whole is terrible, this season is no different than any other season, it's bland, uses a laugh track to pass for comedy, all the main characters are terrible, but unlike other shows that have terrible characters like Seinfeld we're supposed to root for these people. It can be homophobic, sexist, racist all in one bland package, not worth your time.

I LOVED season 8!! It was one of the funniest on the show since season 2, I really dont see why all the backlash. The ending was very disappointing for sure, but for the other 90% I had a great time watching it.

This show is so funny, I can not get enough of it!

A lot more good episodes than the last season, but I still can't help but think it wasn't as good. Maybe I just wasn't as invested in, like, the storyline or something. But, this season was pretty consistent, and pretty consistently just ok. Watchable, but nothing excelling like previous seasons. I definitely understand why it wasn't nominated for the best comedy series Emmy, I think I understand why the next two weren't, and I think they get worse (the next two seasons.) This is the last season I'll be reviewing, until next year when Season 11 ends, because I don't own Season 9 on DVD yet (whole Black Friday fiasco that you can could see on my YouTube channel dewlover420 if you wanted) and I've also already reviewed seasons 9 and 10 from when I finished them the seasons at the end of the their respective seasons! (2015-2016, and 2016-2017, in case that wasn't clear!) So I guess that just meant, or I just meant, that I won't be re-watching Season 9! I don't own Season 10 yet, because I wouldn't, because I get them every Black Friday (they're on sale for $10! All of them! The seasons! All of the seasons!)

Though it's not up to the same standards as some of the previous seasons, The Big Bang Theory continues to maintain decent storylines with relatable and lovable characters, even if the jokes do begin to get repetitive.

The Big Bang Theory: Season 8 Eight season and the engine is still running

Having watched every episode up to season 8, I have found this season the least funniest. Though it wasn't in anyway "bad" it was just not up to the same standards as the other 7. I found that the jokes were reasonably funny, but none of them got me laughing out very loud the way some of the earlier episodes would.

Generally pretty funny, even if a lot of the jokes seems overused. Good for some light-hearted entertainment.