The Michael J. Fox Show: Season 1
(2013 - 2014)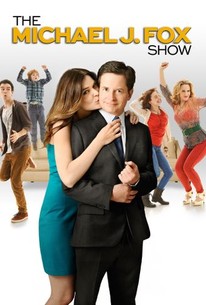 Rate And Review
The Michael J. Fox Show: Season 1 Photos
Tv Season Info
In the first and only series of this sitcom, Michael J. Fox portrays Mike Henry, a family man and former news anchor in New York City who left his job to focus on his health and his family. After five years at home, his wife (Betsy Brandt) and kids think it's a good idea for him to return to work, so they secretly collaborate with his old boss (Wendell Pierce) to orchestrate his return to TV news. Mike then resumes juggling work and being a husband and dad to three kids: recent college dropout Ian (Conor Romero), high-school student Eve (Juliette Goglia) and young Graham (Jack Gore). Meanwhile, an old rival, Susan Rodriguez Jones (Anne Heche), gets a job at Mike's TV station and makes life difficult for him. Guest stars include Fox's real-life wife, Tracy Pollan, as well as Candice Bergen, Charles Grodin and Sting.
Audience Reviews for The Michael J. Fox Show: Season 1
The first half (11 episodes) had some great episodes and some good episodes, and the second half just had good episodes. I agree with the consensus on the uneven writing. One of the big things that made me notice it was the spontaneous jokes, and how not enough of them are funny, or even good. Michael J. Fox and Betsy Brandt obviously kill it. Wendell Pierce and Katie Finneran are ok. I don't think comedy is the right genre for Pierce. I liked Finneran in Wonderfalls, and that character was annoying, so I'm let down that she didn't do better with this annoying character. The kids are hit or miss, sometimes they do good, and sometimes they're just not memorable. They also each have their annoying moments. My favorite thing was the tone in the great episodes, but it doesn't last. I also liked the color palette, and not just because it was surprising they'd have one, or that it's obvious it's there, or the colors it is. I wish it would have stayed longer and for more. At it's best, it's a warm, interesting to watch, funny enough show with great performances from the two leads that help overshadow anyone else that could be underperforming. At it's worst, it's an alright show that's not funny, and doesn't stand out from the rest of the family comedies that are not funny at all. Once it started to hit a bad stride, I was really hoping it would be one of the shows that got better after it was cancelled, but it didn't. Oh, and the last episode ended the series well enough. I'm confused why iTunes only has the first fifteen episodes, and not the rest from after they were cancelled. I actually remembered a lot more about this than I thought I would because I didn't remember seeing much of the show, and thought I didn't watch past the pilot. One nitpick is the episode "Brandon" because they break the first rule of Fight Club, as well as reference LOTR terribly. My favorite episodes are the Pilot, Hobbies, Teammates, Bed Bugs, and Homecoming. I'd buy it on DVD on sale just to see it again because it's hard to watch especially the cancelled episodes, and I'd also like to see if any episodes get better with multiple viewings!

The Michael J. Fox Show was a funny, smart, sweet, and warm-hearted show led by a great performance from Fox. It was smart and safe in how it handled his Parkinson's, and the jokes they made were funny and not harsh that they were tolerable. Overall, it was a great show.

Michael J Fox is timeless and his humor is classic; some of the old school wit mixed with the new world issues, frank and honest, in-your-face hilarity!

Was expecting it to be way better but it was a huge let down, i'm sure it will get taken off TV very soon

Michael J. Fox, We have missed you so much. Welcome Back!

like it..........but should not have another season....

The problem we have with this show are the comedy and the characters. I do believe the comedy suffers because the writers don't know how to play around with their characters. We have so many of them trying to be different things instead of a set personality that we don't have one thing we could possibly poke fun at. Lets at least give props to his wife, Annie. She's the only one who's had some sort of arc. Either way, I'm a fan of Fox and will continue to watch...up to a series finale or cancellation date.