The Muppets: Season 1
(2015 - 2016)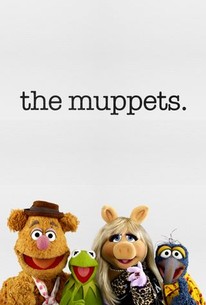 Rate And Review
The Muppets: Season 1 Photos
News & Interviews for The Muppets: Season 1
Audience Reviews for The Muppets: Season 1
A hilarious reality television spoof, The Muppets is a smart and satiric series that provides a lot of laughs. The show follows the behind-the-scenes workings of Miss Piggy's late night talk show "Up Late" as Kermit and the rest of the Muppets put on the show and deal with backstage drama. The Muppet characters are cast especially well, with Fozzie as the announcer, Gonzo and Rizzo as comedy writers, and Uncle Deadly as Piggy's personal assistant. Additionally, dozens of celebrities either guest star or make cameos, which gives a certain reality to the talk show motif. However, off-screen problems ended up spilling out onto the show, resulting is some cast changes, a shift in tone, and even a meta story arc about the network meddling in Miss Piggy's talk show. Still, Season 1 of The Muppets is a lot of fun, and a clever update of the original Muppet Show.

The Muppets (2016) was really solid for what it was: a decently funny workplace mockumentary. Unfortunately, the only times it's ever truly great -- the few times it slips back into the classic Muppets absurdism -- are the times you are reminded of how much better it could have been. I understand the idea of trying to modernize the muppets, and certain changes -- like resetting the show in a Late Night talk show instead of a variety show -- are really quite clever, but it misses the point of The Muppet Show. Yes, it was set in a variety show, but the style of it was not contemporary or mainstream - it was a niche, surrealist, yet shockingly earnest take on classic vaudevillian comedy. By making just another workplace sitcom, Bill Prady and Bob Kushnell have created a pretty good show in its own right, but they've lost The Muppets. And that's a shame.

It was good for what it was. A muppet version of the office is what I need in my life.

Criminally underrated show and the best Muppet product in decades.

I don't get how this flopped, I think it's because we didnt get it. But its a lot of fun!!!

The show has a slow start, but near the end of the series they fix a lot of their mistakes. But they were too late... It wasn't AMAZING or anything. Just okay. But it's a show with Muppets, so it's hard not to love it.

I love the show and it's new version of what a muppet is all about. Yet, they cancelled it and ending a whole new era of memories. Shame on you. Bring back the oldest family entertainment on television. So what if the kids don't understand what they're saying, we all love them.

BOOOOOOO!!!! childhood ruiners......