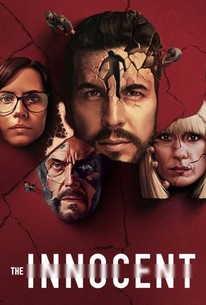 Where to watch
Subscription
Rate And Review
The Innocent: Season 1 Photos
Audience Reviews for The Innocent: Season 1
Absolutely amazing show !, hooked since the first episode. I am a fan of Harlan Coben novels, but this one, is one of the best! worth watching

This series is very slow with the obvious Reveals clunking away through a ridiculous plot. The story has so many holes this we amused ourselves for a short time and when bored rigid googled the ending saving hours of tedium. looking at the ratings i can only conclude only one other person watched it.

A bit of a surprise and gets you thinking about revenge and rehabilitation. Mi esposa y yo disfrutamos este programa, el último es muy sorprendido. Mucho cosas interesantes, ver complicado.

What an awesome mini series 🔥🙏🏼

One of the most underrated tv miniseries, one hell of an awesome show

i don't know why its so underrated , in my opinion its was one of best Netflix original . go watch it all of u

What a brilliant series it's so underrated and he is even better than mare of easttown

Absolutely gripping. So well done. Extreme suspense and drama and twists. Excellent acting. Fast paced storylines. You need to pay attention as small details become importanat. Highly recommended.

Great show. One of the better things I've seen on Netflix.

There is still a way for everyone to be good.
See Details