The Wizard of Evergreen Terrace
EPISODE: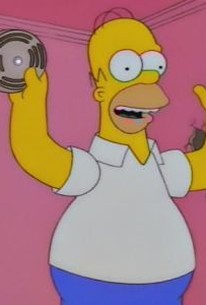 Episode Info
When Homer Simpson (voice of Dan Castellaneta) makes the sobering discovery that his current age put him at the halfway point of a normal human life expectancy, he becomes deeply depressed and is convinced he's wasted his life. Hoping to lift Homer's spirits, his family puts together a reel of home movies documenting some of his more remarkable exploits; unimpressed, he asks who invented movies in the first place, and when he discovers Thomas Edison dreamed up moving pictures as well as the light bulb, the phonograph, and dozens of other useful items, Homer is inspired to become an inventor. Quitting his job, he sets up a workshop in the basement in hopes of creating useful new items. However, Homer's first batch of new products -- including a make-up gun, an electric hammer, and a combination toilet and easy chair -- fails to impress, and he thinks he's washed out again until he comes up with a chair that has extra hinged back legs which keep it from tipping over backwards. The family is convinced Homer's finally come up with a winner until someone spots a photo of Edison with just such a chair; determined to avoid being branded a failure again, Homer and Bart (voice of Nancy Cartwright) head to the Edison Museum in Michigan in order to destroy the great inventor's original chair so Homer can claim it as his own. Featuring a voice cameo from William Daniels (reprising his role as K.I.T.T., the car from Knight Rider), "The Wizard of Evergreen Terrace" first aired on September 20, 1998.
The Wizard of Evergreen Terrace Photos
Discussion Forum
Discuss The Simpsons on our TV talk forum!