Denial, Anger, Acceptance
EPISODE: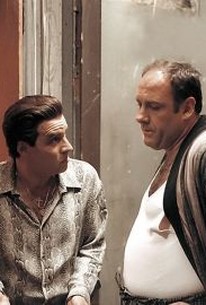 Episode Info
In the series' third episode, a crime family confronts the possibility of a future power struggle. Meadow Soprano (Jamie-Lynn Sigler), the daughter of New Jersey mob boss Tony Soprano (James Gandolfini), takes crystal methamphetamines with a friend in order to help them study for the SATs. Tony visits his dying Mafia superior, Jackie Aprile (Michael Rispoli), in the hospital and presents him with a gift: a hooker dressed as a nurse. Mikey Palmice (Al Sapienza), the top lieutenant of Tony's rival and uncle, Junior (Dominic Chianese), is convinced that Tony will make a grab for top boss after Jackie's death, and he begins to convince Junior that his nephew should be whacked. Tony, his henchman Paulie Walnuts (Tony Sirico), and another Soprano lieutenant, Silvio Dante (Steven Van Zandt), deal with a Hasidic family of motel owners who refuse to pay protection money. After hiring family friends Artie Bucco (John Ventimiglia) and his wife Charmaine (Kathrine Narducci) to cater a party, Tony's wife, Carmela (Edie Falco), learns that her husband slept with Charmaine in high school. Soprano associate Christopher Moltisanti (Michael Imperioli) tries to make a botched truck hijacking right by returning stolen goods to Junior, but the mob capo still orders Christopher's pal, Brendan Filone (Anthony de Sando), murdered and Christopher to be threatened. Airing on January 24, 1999, "Denial, Anger, Acceptance" was directed by independent feature filmmaker Nick Gomez (New Jersey Drive, Illtown).
Denial, Anger, Acceptance Photos
Discussion Forum
Discuss The Sopranos on our TV talk forum!