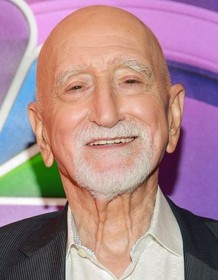 Dominic Chianese
Highest Rated: 96% The Godfather, Part II (1974)
Lowest Rated: 32% When Will I Be Loved (2004)
Birthday: Feb 24, 1931
Birthplace: Bronx, New York, USA
After nearly a half century as a working actor with credits on Broadway and TV as well as in features, Dominic Chianese finally achieved prominence as the embittered and ambitious would-be don Corrado 'Junior' Soprano, the uncle to mob boss Tony, on HBO's popular series "The Sopranos" (1999-2006).
Photos
Dominic Chianese at arrivals for The Joe Torre Safe At Home Foundation 16th Annual Gala, Cipriani 25 Broadway, New York, NY November 15, 2018. Photo By: Steve Mack/Everett Collection
The Good Wife, Dominic Chianese, 09/22/2009, ©CBS
UNFAITHFUL, Dominic Chianese, Richard Gere, 2002, TM & Copyright (c) 20th Century Fox Film Corp. All rights reserved.
The Good Wife, Dominic Chianese, 09/22/2009, ©CBS
WHEN WILL I BE LOVED, Dominic Chianese, Neve Campbell, 2004, (c) IFC Films
ADRIFT IN MANHATTAN, Dominic Chianese, 2007. ©Screen Media Films
Boardwalk Empire, Gretchen Mol (L), Dominic Chianese (R), 'New York Sour', Season 4, Ep. #1, 09/08/2013, ©HBO
Boardwalk Empire, Dominic Chianese, 'You'd Be Surprised', Season 3, Ep. #5, 10/14/2012, ©HBO
UNDER HELLGATE BRIDGE, Michael Rodrick, Dominic Chianese, 2000
The Good Wife, Dominic Chianese, 'Two Girls, One Code', Season 4, Ep. #3, 10/14/2012, ©CBS
THE GODFATHER: PART II, Lee Strasberg, Dominic Chianese, 1974
The Good Wife, Dominic Chianese, 09/22/2009, ©CBS
Filmography
Movies
TV
Credit

23%

57%

The Village
Enzo Napolitano (Character)

2019

93%

90%

The Good Wife
Judge Michael Marx (Guest Star)

2012-2015

92%

95%

Boardwalk Empire
Leander Whitlock (Character),
Unknown (Guest Star)

2011-2014

No Score Yet

82%

Blue Bloods
Happy Jack (Guest Star)

2010

92%

96%

The Sopranos
Corrado "Uncle Junior" Soprano (Character)

1999-2002

2004

2006-2007

No Score Yet

No Score Yet

Hope & Faith
Unknown (Guest Star)

2004

No Score Yet

No Score Yet

The Daily Show With Jon Stewart
Guest

2001

No Score Yet

82%

Law & Order
Unknown (Guest Star)

1991

1995

1997

No Score Yet

No Score Yet

Cosby
Unknown (Guest Star)

1997

No Score Yet

No Score Yet

Kojak
George Mallick (Guest Star)

1976

No Score Yet

No Score Yet

East Side/West Side
Unknown (Guest Star)

1964