All the President's Men
(1976)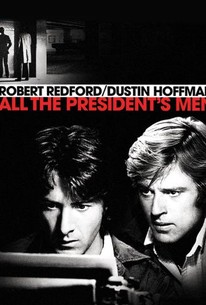 TOMATOMETER
AUDIENCE SCORE
Critic Consensus: A taut, solidly acted paean to the benefits of a free press and the dangers of unchecked power, made all the more effective by its origins in real-life events.
All the President's Men Photos
Movie Info
A reconstruction of the discovery of the White House link with the Watergate affair by two young reporters from the Washington Post.
People Who Like this movie also like
News & Interviews for All the President's Men
Critic Reviews for All the President's Men
Audience Reviews for All the President's Men
A bonafide hit the political thriller "All The President's Men" garnered a total of Eight Oscar nominations including Best Picture and won Four including Best Supporting Actor, Best Adapted Screenplay, Best Sound and Art Direction.
Mister Caple
Super Reviewer
"The most devastating detective story of this century." Reporters Woodward and Bernstein uncover the details of the Watergate scandal that leads to President Nixon's resignation.
REVIEW
Alan J. Pakula's seminal political thriller which relates the scandalous Watergate affair from the relentless investigation two journalists Woodward (Robert Redford) and Bernstein (Dustin Hoffman) undertook. They had flair, used their reasoning and deduction faculties in a stalwart way without giving in too much to discouragement to reconstitute with tenacity and accuracy this scandal which will lead to the resignation of Nixon. All this throughout countless phone calls, conversations with witnesses who were however often reluctant to talk, intensive researches. More than half of the movie occurs in the editorial office and not only has Pakula a sense of space to make this place bright but also to captivate the viewer's attention while the two journalists pore over their research and discoveries. Technically speaking, his film commands admiration and respect: helped by the topnotch work of his DP Gordon Willis, his camera work shines throughout the work which is also scattered by first-class sequences. The very last one of course and one of my favorites is the following one: when Hoffman goes to Redford's apartment to inform him of his new discoveries, the latter turns up the music very loud, then he begins to type on the typewriter and incites his companion to communicate through this scheme because there are mikes in the room. An ingenious way to eschew one trap their enemies set. Because all the ones who were involved in this affair try to hush it up. An affair painstakingly reconstituted as well as a documentary about the American press's work methods, a faultless directing, a visual, technical splendor and a topflight performance, what more could you ask for from a cracker that can stand (or rather) encourages multiple viewings?
Lorenzo von Matterhorn
Super Reviewer
½
This is the story of a couple of journalists for the Washington Post named Bob Woodward and Carl Bernstein who, in the wake of a break in at the Watergate Hotel, stumble upon a deep and major conspiracy that eventually led to the first ever resignation of a U.S. President. It's a compelling and fascinating story, made even more potent, compelling, and biting by the fact that it's all true. This films gets all kinds of (deserved) accliam, but I must be honest and say that this is a difficult film. You have to be able to sit through something that is both lengthy and deliberately paced, and is more about plot, dialogue, and atmosphere that is heavy on suspense, yet light on visceral action and payoffs. For the most part, I was able to sit through it just fine. I did start to get antsy, but the film never really fully lost my attention or pushed me to the breaking point. It takes a lot of talent to make a film that is mostly people taking notes, typing, and talking (usually on phones) watchable and interesting, and that's the case here. Again, it helps that this film is about a real event, making it relatable to audiences (especially those who sawe it when it came out). It''s not really all that dated though, at least not in a bad or even kitschy way. It's a love letter to patience, determination, investigative journalism, and following a story, even if the odds seem overwhelming and the outlook grim. The art direction is pitch perfect, and the way the films shows the workings of a 70s newsroom is awesome, or at least I thought so. I want more movies like this that have a high sense of realism in capturing a workplace. The conematography by Gordon Willis is absolutely brilliant, and everything comes alive thanks to some excellent use of shadows and light, nice framing, and effectively employed camera angles. Aside form the actors, it's the real star of the show...and speaking of stars: Dustin Hoffman as Carl Bernstein and Robert Redford as Bob Woodward? Perfect. The two have great chemistry together, and a real sense of comraderie, even though they aren't best friends or have the same views, opinions, and beliefs. Woodward is less experienced, but still very determined, even if self involved. Bernstein is more experienced, but sometiimes a bit too sharp for his own good. The performances are wonderful though, and perfectly embody these characters. Jason Robards shines as their boss Ben Bradlee, and Hal Holbrook is quite great as Deep Throat- the key information provider to Woodward who managed to remain anonymous until 2005. It's no secret (to a lot of people) that I have a love for the 70s and 70s cinema that might be a little detrimental on my judgment. However, this is still an excelelnt film, and remains the high water mark for films about journalism. It's an important film that not only does a great job of capturing the investigation into one of the most notable events in 20th Century American history, but also works as a great cultural and historical tool, providing insight into the time period (both that it portrays and the one it was made in). As I said, this is a hard one to endure, but if you have the fortitude, it's profoundly rewarding.
Chris Weber
Super Reviewer
All the President's Men Quotes
| | |
| --- | --- |
| Deep Throat: | Get out your notebook, there's more. Your lives are in danger. |
| | |
| --- | --- |
| Deep Throat: | The list is longer than anyone can imagine. It involves the entire US intelligence community. FBI, CIA, Justice, it's incredible. |
| | |
| --- | --- |
| Bob Woodward: | Listen I'm tired of your chicken shit games! I don't want hints, I need to know what you know. |
| | |
| --- | --- |
| Deep Throat: | Follow the money. |